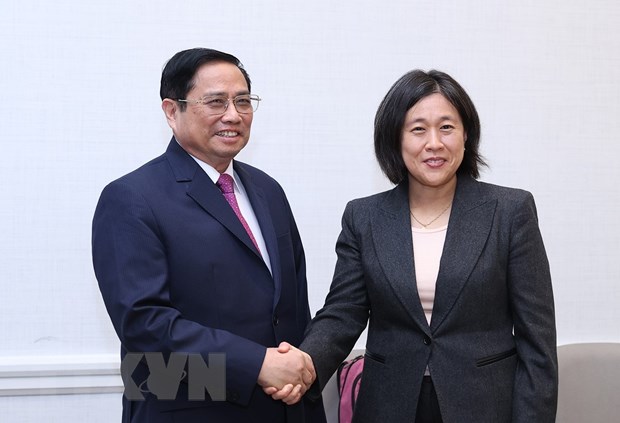 Viet Nam regards the U.S. as one of its top partners, and hopes that the U.S. will facilitate Vietnamese exports and the country stands ready to discuss with the U.S. about its concerns anywhere and anytime, said Pham.
He added that Viet Nam expects to cooperate with the U.S. to cement and deepen the bilateral comprehensive partnership and make it more practical and stable in the long term, on the basis of respecting each other's independence, sovereignty, territorial integrity and political system, contributing to peace, stability, cooperation and development in the region and the world.
The country has entered the post-pandemic "new normal" phase thanks to the international donation of COVID-19 vaccines, a large volume of which came from the U.S. via the COVAX Facility, said Pham.
The Vietnamese Prime Minister also spoke highly of the Office of the US Trade Representative's efforts in accelerating trade between the two countries and resolving emerging issues to prevent the two-way trade from disruptions.

He expressed his delight at the growth of the bilateral economic-trade relations, noting that the US's exports to Viet Nam reached US$15.3 billion in 2021, up 11.7 percent from the previous year, making Viet Nam the leading trade partner of the U.S. in Southeast Asia.
Tai, for her part, reiterated that the U.S. will continue supporting Viet Nam's post-COVID recovery. She also highly valued Pham's visit to the U.S., saying it marks a milestone for further strengthening the comprehensive partnership between the two sides.

She expressed her hope that the two countries would foster their economic, trade, investment and financial relations./.