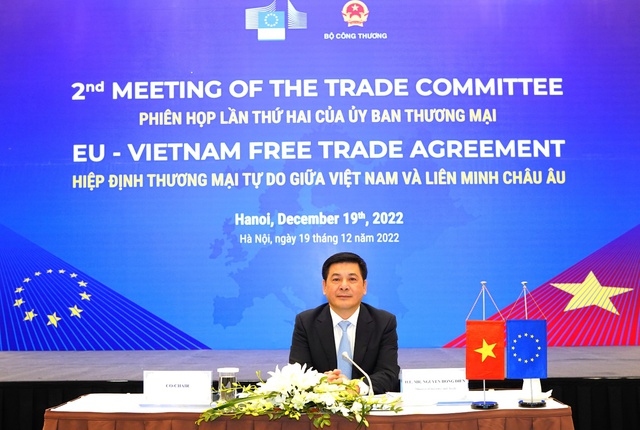 Minister of Industry and Trade Nguyen Hong Dien and Executive Vice President of the European Commission cum European Commissioner for Trade Valdis Dombrovskis co-chaired the event.
At the meeting, both sides spoke highly of the outcomes of the two-year implementation of the EVFTA, acknowledging efforts made by both sides' monitoring agencies and enterprises in taking advantages of opportunities brought from the agreement.
They discussed issues of mutual concerns including an amendment to Protocol 1 on Rules of Origin; pharmacy, rice, geographical indication; reform in labor sector; special tax levied on alcohol; and preferential tariff treatment for the customs territory of the EU.
Other issues relevant to the application of the provisions of the agreement to motor vehicles and refurbished goods and illegal, unreported and unregulated (IUU) fishing were also referred at the meeting.
Both sides pledged to foster close coordination to accelerate bilateral trade and investment ties with a view to promoting the development of Viet Nam-EU relations in the upcoming time.
During August 2020-July 2022, Viet Nam earned US$83.4 billion from exporting goods to the EU, up 24 percent compared to the average export value during the 2016-2019 period.