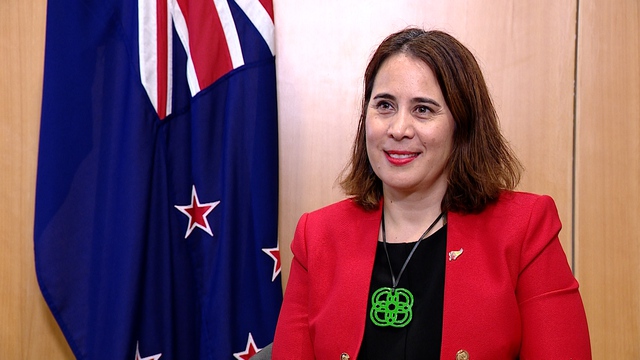 New Zealand Ambassador to Viet Nam Tredene Dobson made the above statement during an interview with the Viet Nam Government Portal ahead of Prime Minister Jacinda Ardern's official visit to Viet Nam.
According to the New Zealand Ambassador to Viet Nam, the visit is another demonstration of the thriving relationship between New Zealand and Viet Nam, and its importance to both countries.
Along with the visit to New Zealand of Viet Nam's Minister of Foreign Affairs Bui Thanh Son, one month after New Zealand removed COVID-19 border restrictions, it shows that both countries are committed to maximising the opportunities that were created when they agreed to upgrade the relationship to a Strategic Partnership in 2020.
The Strategic Partnership was itself built upon comprehensive cooperation and achievements in various areas, including trade and economic, agriculture, education, defence and security, development and people-to-people links. The visit is an important opportunity for Prime Minister Ardern to reaffirm and build on this strong foundation.
As both countries emerge from the impacts of COVID-19, the visit is also an important opportunity to re-connect and recover together.
Prime Minister Ardern is accompanied by the largest business delegation to visit Viet Nam from New Zealand, with top CEOs and managers looking to open up opportunities for bilateral economic cooperation and new opportunities for investment in Viet Nam.
Viet Nam's emerging and dynamic market presents new economic opportunities for many New Zealand businesses, building on what is already a significant trade relationship worth over NZ$2.3 billion in two-way trade in the year ending June 2022.
As the two nations recover from COVID-19, the visit is also an opportunity to note both countries are open for tourism growth, having fully reopened up to international travel.
Official talks between both countries' top leaders will be held along with business dialogues and networking, and events that highlight the two sides' connections in agriculture, education, tourism and sports.
Meetings with all top four leaders of Viet Nam will help both sides continue to build trust, share mutual understanding and reaffirm commitments, and build on areas of common interest.
Furthermore, activities between both countries' business delegations, with the presence of PM Jacinda Ardern and policy makers from Viet Nam and New Zealand, will help to establish meaningful connections, discuss ways to promote bilateral trade, uncover opportunities that are mutually beneficial, and identify how to capitalise on them.
There are some really great developments, and both countries have also been working hard to refresh prior arrangements so that they can take account of new development and opportunities, but that is for the two Prime Ministers to share.
One area the Ambassador expects both sides' leaders to look hard at in terms of opportunities for collaboration is climate change. The visit will occur in the context of COP27 and following the ambitious commitments made by the two countries at COP26 and previously so there are absolutely opportunities to work closer together.
Positive outcomes after two years of upgrading to Strategic Partnership
The New Zealand Ambassador to Viet Nam noted that in recent years the Viet Nam-New Zealand relationship has gone from strength to strength.
In the trade relationship alone, in the past five years two-way trade in goods has increased by 59 percent, reaching NZ$2.39 billion by year-end June 2022, making Viet Nam become New Zealand's 15th largest trading partner.
In this period, Viet Nam exported NZ$1.36 billion to New Zealand, while New Zealand exported NZ$1.03 billion to Viet Nam. This shows the complementary nature of our trading relationship.
For example, where New Zealand has seen around 18 percent growth in fresh fruit exports to Viet Nam, Viet Nam has grown its machinery exports to New Zealand by more than 30 percent over the last year.
Last year, one of New Zealand most successful joint projects with Viet Nam came to conclusion, a project that over 10 years has been a point of pride for both New Zealand and Viet Nam–commercialising new varietals of dragon fruit as well as making giant scientific strides in pest management for the fruit.
One of the greatest highlights over the last two years is that despite both countries taking a COVID-19 approach that did not allow travel between the two countries, the relationship has continued to grow in every area.
Both sides' people and businesses, determined to succeed and found ways of working together. The two nations' leaders and Ministers kept up their regular exchanges, albeit virtually.
In education, universities and other institutions worked quickly to create and then deliver virtual learning opportunities as well as taking the opportunity to prepare Vietnamese students for when they could travel to New Zealand.
Regarding development cooperation, New Zealand has invested nearly NZ$2.2 million since June 2020 in support of Viet Nam's COVID-19 pandemic response. New Zealand also provided vaccine support through the COVAX Facility.
Both sides shared a lot of knowledge and experience to support pandemic response policy as well as worked closely together regionally, especially through APEC to support supply chain efficiency for vaccines, medicines and personal protective equipment.
Meanwhile, the relationship has seen strong momentum recently in defence and security cooperation between our two countries.
This includes the effective implementation of the New Zealand-Viet Nam Peacekeeping Operations Training and Cooperation Implementing Arrangement, and regular high-level defence exchanges in both directions, signal strengthening defence relations.
The two nations are also working hard to build upon the 2019 arrangement between the Ministry of Public Security of Viet Nam and New Zealand Police on countering transnational crimes through regular information exchanges, and training programmes on anti-money laundering and anti-human trafficking and smuggling.
Both sides also cooperate closely in both bilateral and multilateral mechanisms on maritime security and safety to promote respect for and adherence to the 1982 United Nations Convention on the Law of the Sea (UNCLOS).
Efforts focus on freedom of navigation and overflight in the region in order to promote unimpeded commerce, mutual trust and confidence, and the peaceful resolution of disputes, including disputes in the East Sea, in accordance with international law, particularly UNCLOS, and with full respect to the diplomatic and legal process.
Viet Nam, New Zealand strive for US$2 billion in bilateral trade by 2024
Regarding potential of economic cooperation between the two nations, Tredene Dobson stated that Viet Nam and New Zealand have the advantage of sharing three major free trade agreements including the Comprehensive and Progressive Agreement for Trans-Pacific Partnership (CPTPP), the Agreement Establishing the ASEAN-Australia-New Zealand Free Trade Area (AANZFTA) and the Regional Comprehensive Economic Partnership (RCEP).
Both sides are working together across regional architecture such as APEC, ASEAN/EAS and ASEM, and most recently the Indo-Pacific Economic Framework.
"These deep bilateral and regional economic connections will ensure the maintenance of supply chains and reduce barriers to international trade", noted the Ambassador.
Despite New Zealand's small population of only five million, compared to Viet Nam's 98 million, Viet Nam actually enjoys a trade surplus in New Zealand.
Tredene Dobson hoped to see even more business-to-business collaboration happening during her tenure in Viet Nam. For example, there are good opportunities for New Zealand and Viet Nam to collaborate where both sides share trade relationships, market access, and trade deals-such as with the European Union.
As Viet Nam strives to move further up the global value chain, New Zealand businesses are also well positioned to provide intermediate inputs into Viet Nam's manufacturing capacity.
If the two nations collectively begin to realise the enormous potential for New Zealand and Vietnamese businesses to increase business collaboration, strengthen investment, and grow the complementary trade relationship, both sides will not only meet the target of US$2 billion two-way trade by 2024, but will exceed it, reiterated the diplomat.