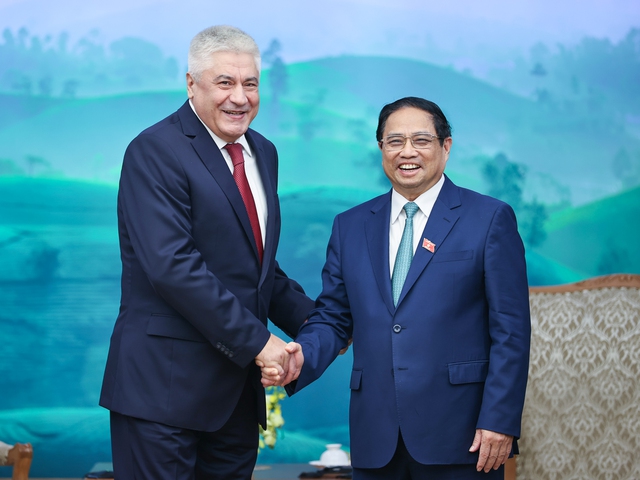 The host and the guests expressed their satisfaction at the development in politic-diplomacy relations with high trust and active exchange of delegations and contacts.
Economic-trade cooperation plays a crucial role in the bilateral ties, they noted, speaking highly of the positive outcomes of cooperation in petroleum and energy.

Pham reiterated that Viet Nam always attaches importance to and expects to strengthen the comprehensive strategic partnership with Russia for the sake of both nations and for peace, cooperation and development in the region and the world.
Viet Nam sticks to its foreign policy of independence, self-reliance, diversification and multilateralization of relations, and being a friend, a reliable partner and a responsible member of the international community, reassured the Prime Minister.
He suggested both sides promote all-level delegation exchanges and strengthen cooperation in economy, trade, investment, energy, people-to-people links, culture, tourism, education and training.
Pham urged both sides to step up collaboration in cyber security, digital transformation, science and technology, recommending Russia simplify procedures on visa issuance for Vietnamese citizens.
For his part, Kolokoltsev asserted that Russia gives priority to and treasures the traditional relationship with Viet Nam, including cooperation between the Russian Ministry of Interior and the Vietnamese Ministry of Public Security.
He vowed to do his utmost to enhance cooperation with Viet Nam for the prosperity of their peoples./.