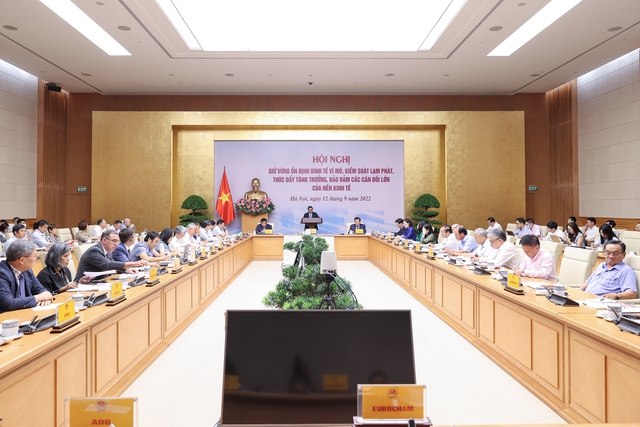 These tasks are as follows:
(1) Pursuing flexible and effective monetary policy in close coordination with fiscal policy to curb inflation, stabilize the macro-economy and boost economic growth; ensuring the stability of exchange rates, currency and foreign exchange markets and credit growth.

(2) Accelerating the disbursement of public investment capital and the implementation of the socio-economic recovery and development program and three national target programs; strengthening public debt management and guaranteeing debt repayment capacity and public debt safety; promoting openness, transparency and stable and healthy development of the stock market and corporate bond market.
(3) Reinforcing management, inspection and supervision of markets and prices, especially for essential commodities such as petrol and oil.
(4) Fostering the development of domestic market and demand; diversifying export markets; enhancing trade promotion activities, exports and sustainable trade surplus.
(5) Perfecting institutions, mechanisms and policies to mobilize and effectively use resources in favor of rapid recovery and sustainable development; developing tourism and services; conducting research for appropriate visa policy.
(6) Speeding up transformation towards an efficiency and innovation-driven growth model; renewing technology, fostering digital transformation, developing a digital, green and circular economy in adaption to climate change; promoting energy conversion, competitiveness and resilience of the economy; formulating policies to encourage the development of energy conversion industry.
(7) Improving the capacity for direction and coordination of macroeconomic policies to ensure synchronization, efficiency and flexibility among policy instruments; early setting up the interdisciplinary steering committee on macroeconomic management and administration.
(8) Stepping up administrative reform; building an effective and efficient apparatus; developing high-quality human resources; strengthening the fight against corruption and wastefulness to create a basis for sustainable development and increase people's trusts.
(9) Building an independent and self-reliant economy in combination with extensive, effective and in-depth international integration.
(10) Safeguarding social security and national defense and security; protecting independence and sovereignty; identifying people as the center, subject, goals, driving force and development resource; not 'sacrificing' social progress and justice, social security and environment to pursue economic growth alone.
(11) Creating social consensus and the joint effort of the whole people and business community in realizing the goal of stabilizing the macro-economy, controlling inflation, promoting growth and ensuring balance of the economy.
(12) Containing the pandemic effectively; regarding people's health and life as the first and foremost priority; accelerating the vaccination against COVID-19; ensuring sufficient supply of medical supplies and medicines.
(13) Promoting public-private partnership to attract resources for strategic infrastructure development, green transition and digital transformation./.