PM seeks macro-economic risk warning mechanism for ASEAN
VGP – PM Nguyen Xuan Phuc recommended the International Monetary Fund (IMF) and the World Bank (WB) provide consultations for ASEAN to build a regional macro-economic risk warning mechanism in favor of bigger self-reliant capacity.
October 12, 2018 6:25 AM GMT+7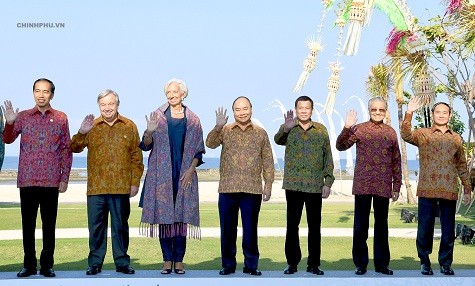 Photo: VGP/Quang Hieu
PM Phuc led the Vietnamese high-ranking delegation to attend the ASEAN Leaders' Gathering on the sidelines of the annual meeting of the IMF and the WB in Bali, Indonesia.
Under the theme "Achieving Sustainable Goals and Overcoming Development Gap through Regional and Global Collaborative Actions," the ASEAN Leaders Gathering focused on ideas, orientations and measures to intensify cooperation and collaboration between ASEAN and other international organizations such as the United Nations, the IMF and the WB, creating new driving forces for the building of the ASEAN Community in close association with the 2030 Agenda on sustainable development.
Addressing the event, PM Phuc hailed the Indonesia for its initiative to host the gathering. He stressed that the event offered a good chance for leaders of ASEAN and international organizations to share opinions and discuss regional and global measures to promote growth, sustainability, creation, and especially fulfill the UN Sustainable Development Goals.
The Government leaders suggested the IMF and the WB cooperate with ASEAN and Viet Nam to practically implement WEF ASEAN Conference especially a harmonized business environment mechanism, a connectivity framework on national nurseries, educational connectivity network, and building of a long-life learning system.
The Vietnamese Government, said PM Phuc, has spared no effort to build a Government of integrity, development, action in favor of citizens and businesses.
Viet Nam has strengthened cooperation to accelerate the realization of plans on ASEAN Community by 2025.
PM Phuc praised the positive assistance and cooperation of the two international institutions for ASEAN especially in community building and ASEAN member states for sustainable growth, macro-economic supervision, policy consultations, technical training and support.
The PM took the occasion to call upon the IMF and the WB to provide consultations to build a regional macro-economic risk warning mechanism to raise self-reliant capacity for ASEAN; work with ASEAN to develop infrastructure; make early natural disaster warnings; respond to climate change; narrow down the development gaps./.
By Huong Giang