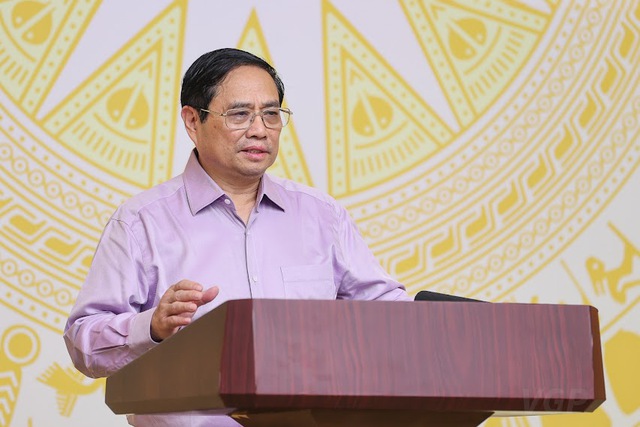 The event saw the participation of Deputy Prime Ministers Le Minh Khai and Le Van Thanh and representatives from ministries, agencies, localities and businesses nationwide.
Addressing the event, the Government chief asked for promoting the safe, healthy, sustainable and transparent development of real estate, capital and labor markets.
It is necessary to continue improving investment and business environment, boosting administrative reform and building a digital economy, digital Government, and digital society, Pham noted.
He highlighted the significance of protecting independence, sovereignty, territorial integrity, maintaining political stability as well as ensuring social order, security, safety.
The Government leader called on ministries, agencies and localities to effectively and promptly handle difficulties and obstacles that hinder the development of enterprises.
Disbursement of public investment must be accelerated, the PM said, requiring relevant agencies to kick off all social resources, including capital resources of enterprises, in favor of national development process.
He ordered subbordinate levels to provide exact and updated information for enterprises to enhance production and manufacturing, diversify markets, renew technology and foster digital transformation.
Regarding short-term solutions to help the business community to overcome difficulties, PM Pham asked for further reduction of taxes and fees on petrol, raw materials and input materials for production and manufacturing while intensifying domestic supply of raw materials to lessen dependence on imported ones.
He reiterated the need to continue effective management of the COVID-19 pandemic by speeding up vaccination in order to facilitate business activities./.