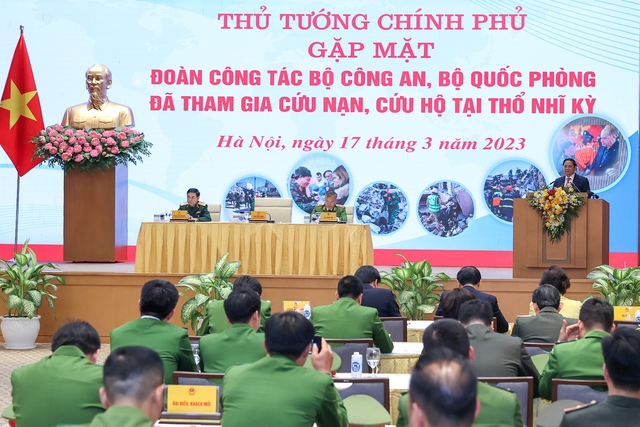 The event saw the attendance of Minister of National Defense Phan Van Giang, head of Party Central Committee's Commission for External Relations Le Hoai Trung, Minister-Chairman of the Government Office Tran Van Son, Foreign Minister Bui Thanh Son and Minister of Home Affairs Pham Thi Thanh Tra.
Following the deadly 7.8-magnitude earthquakes in the Turkey-Syria region, Viet Nam, for the first time, sent a team of 76 military personnel from the Ministry of National Defense and another team of 24 members from the Ministry of Public Security, to join in search and rescue efforts in a foreign territory.
The Ministry of Public Security's team successfully rescued one survivor and handed over 14 bodies of victims to medical units. They also donated nearly 2 tons of medical equipment, visited and presented gifts to families of the victims.
Meanwhile, the Ministry of National Defense's team conducted search in 31 locations, found 28 dead victims. They raised US$4,000 to help local residents buy food and supplies and donated 25 tons of relief goods to local authorities.
Addressing the event, Prime Minister Pham said that the Vietnamese rescue teams in Turkey, together with Vietnamese officers participating in UN peacekeeping activities, have concretized the Party and State's foreign policy and guidelines that Viet Nam is an active and responsible member of the international community.
In addition, rescue activities in Turkey have reflected the nation's capacity of taking part in and dealing with international issues in remote and disadvantaged areas as well as the country's willingness to cope with difficulties and challenges to maintain peace and stability for cooperation and development in the region and the world.
Pham emphasized the need to actively respond to emergency situations and foster collaboration between ministries, agencies and localities in handling non-traditional security issues.