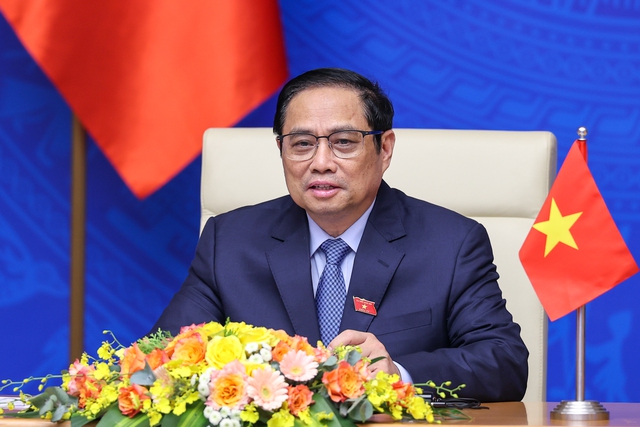 Leaders to the event include Japanese Prime Minister Kishida Fumio, U.S President Joseph Biden, Indian Prime Minister Narendra Modi, President of the Republic of Korea Yoon Suk-yeol, New Zealander Prime Minister Jacinda Ardern, Thai Prime Minister Prayut Chan-o-cha, Singaporean Prime Minister Lee Hsien Loong.

The leaders shared a vision of an open, inclusive, fair, and rule-based Indo-Pacific region and upheld ASEAN centrality.
They underscored the urgent need of strengthening cooperation to ensure economic recovery and development as well as the importance of enhancing economic competitiveness capacity, transparency, anti-corruption, and maintaining key supply chains.
The leaders agreed to initiate the IPEF discussion process and expressed their willing to invite countries in the region to join this process with a hope that this cooperation framework will help economies build resilience, particularly in post-pandemic recovery, improve their competitiveness, adaptability, sustainability, and inclusivity in favor of cooperation, stability, prosperity, development and peace in the region, for the benefits of the people.
The leaders agreed that future discussions of the IPEF should focus on: (i) trade, (ii) supply chains, (iii) clean energy, decarbonization and infrastructure, and (iv) taxation and anti-corruption.
Addressing the ceremony, Prime Minister Pham underlined the necessity to make growth model and economic linkages more sustainable and more resilient, and to fully tap internal power and external resources.
Pham called for upholding multilateralism and strengthening international solidarity on the basis of sincerity, trust and responsibility.
The launch of this framework will kick-start serious discussions among countries to jointly address regional and global issues such as supply chain diversification and sustainability, technological innovation, digital transformation, e-commerce, climate change, emission reduction, green development, taxation, anti-corruption among others.
Pham affirmed Viet Nam is determined to build up an independent and self-reliant economy in association with extensive and substantive international integration.
The Southeast Asian country is also participating in various economic connectivity initiatives and making positive and responsible contributions to the common efforts in accelerating sustainable economic recovery and development in the region and the world.
He stressed the IPEF discussions should aim to formulate a framework that can bring practical benefits to the people, reiterating that Viet Nam will work with other ASEAN member states and relevant partners to further clarity the content of cooperation pillars of this framework./.