Highlights from Prime Minister Pham Minh Chinh's tour to U.S.
VGP – Prime Minister Pham Minh Chinh has arrived in Ha Noi, wrapping up his tour to the U.S. to attended the ASEAN-U.S. Special Summit and visit the U.S. and the United Nations from May 11-17.
May 20, 2022 7:47 PM GMT+7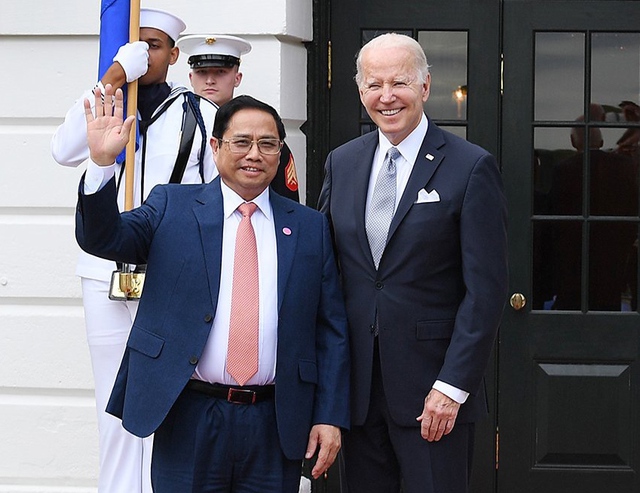 Pham was accompanied by Minister of Public Security To Lam, Minister-Chairman of the Government Office Tran Van Son, Minister of Foreign Affairs Bui Thanh Son, Minister of Planning and Investment Nguyen Chi Dung, Minister of Industry and Trade Nguyen Hong Dien, Minister of Labor, Invalids and Social Affairs Dao Ngoc Dung, Minister of Natural Resources and Environment Tran hong Ha, Minister of Information and Communications Nguyen Manh Hung, Minister of Agriculture and Rural Development Le Minh Hoan, Minister of Science and Technology Huynh Thanh Dat, Governor of the State Bank of Viet Nam Nguyen Thi Hong, Deputy Minister of National Defense Pham Hoai Nam and Ambassador of Viet Nam to the U.S. Nguyen Quoc Dung.

This is the first foreign tour of Prime Minister Pham Minh Chinh after Viet Nam has successfully contained the COVID-19 pandemic and reopened borders to foreign tourists. It is also Pham's first foreign tour to the U.S. since the 13th National Party Congress.
Prime Minister Pham left Ha Noi for the U.S. just hours after the 5th plenum of the 13th Party Central Committee.
Pham participated in more than 60 bilateral and multilateral activities during which key messages were communicated.
First, the summit is of significant importance as it marks the 45 years of the ASEAN-U.S. relations. This is the second in-person summit between the two sides since 2017.
The leaders to the summit adopted a Joint Vision Statement figuring out major orientations for the bilateral ties over the coming time, sharing commitment to strengthen and build more comprehensive ASEAN-U.S. Dialogue Relations.
Both sides committed to accelerating cooperation in dealing with traditional challenges such as freedom of navigation and aviation in seas and oceans, including the East Sea, as well as non-traditional issues like pandemics and climate changes.
The two sides pledged to give priority to cooperation in post-COVID recovery, supply chain stabilization, development gap narrowing, including in the Mekong sub-region, digital transformation, energy transition, and green and sustainable development.
Both ASEAN and the U.S. attach importance to each other's role and position. President affirmed his country's support and respect for ASEAN centrality, wishing to work with ASEAN to lift up the ASEAN-U.S. dialogue relations to a new height, and to settle emerging challenges in the region, thus opening up a new era in the relations between the two sides.
ASEAN continues regarding the U.S. as one of its top partners, expressing its wish that the U.S. would continue active engagement and effective contributions to regional cooperation, contributing to peace, security and prosperity in the region in accordance with international law.
In his remarks at the summit, Prime Minister shared Viet Nam's views on orientations regarding the development of the ASEAN-U.S. relations, promotion of ASEAN centrality, cooperation for peace and stability, and regional and international landscape.
Pham emphasized that ensuring peace and stability must be a top priority, calling for restoring trade and investment flows and upholding multilateralism in addressing global issues.
Second, Prime Minister Pham's tour aims to foster bilateral ties with the U.S. in a more practical and effective manner.
Pham joined more than 45 in-person meetings and events in Washington D.C., Boston, New York, and San Francisco. This is the first time since the outbreak of the COVID-19 pandemic, such high-level meetings and events were held.
At the meetings and events, the American side affirmed support for a strong, independent, and prosperous Viet Nam, wishing for an increasingly effective and extensive relationship between the two countries.
Both sides agreed that Viet Nam and the U.S. have overcome ups and downs, and made great strides in the bilateral ties.
The sides vowed to coordinate closely to materialize the outcomes of previous high-level visits, including the Joint Vision Statement on bilateral ties adopted during Party General Secretary Nguyen Phu Trong's visit to the U.S. in 2015, on the basis of the such mutually-agreed principles like respect for each other's political regimes, independence, sovereignty, territorial integrity, cooperation for mutual benefits, the United Nations Charter and international law.
Both sides agreed on the need to fully tap potential and opportunities to further strengthen economic, trade and investment linkages.
Prime Minister Pham and his entourage also came to visit the top economic, financial, academic, technological institutions and met with leaders of American business giants.
He also met with Viet Nam's American friends who have wholeheartedly supported Viet Nam in the past struggle for national independence and the current cause of national construction.
Third, Pham's tour aims to foster cooperation with the United Nations on the occasion of the 45th founding anniversary of Viet Nam-United Nations relations (1977-2022).
At his meetings with United Nations General Assembly President, United Nations Deputy Secretary-General, Administrator of the United Nations Development Program, and Executive Director of the United Nations International Children's Emergency Fund, both sides underscored the outcomes of bilateral cooperation as well as Viet Nam's increasingly active and effective contributions to the United Nations common work, especially in realizing sustainable development goals, peace-keeping operations, and climate change among others.
The United Nations considers Viet Nam an important friend and partner and responsible member, reiterating its support for the Southeast Asian country, particularly its efforts in post-pandemic recovery, green development, energy transition, climate change adaptation, digital transformation, and settlement of war consequences.
Fourth, Pham's tour offered an opportunity for Viet Nam to express views on major regional and international issues and reaffirm the country's consistent pursuit of its foreign policy of independence, self-reliance, multi-lateralization and diversification of external relations.
Pham was the only ASEAN leader to deliver a speech at the Center for Strategic and International Studies (CSIS) – a think tank based in Washington D.C and became the first Vietnamese leader to speak at Harvard University.
In his remarks, he called for sincerity, trust and responsibility to build a better world and reiterated Viet Nam's determination to build an independent and self-reliant economy and integrate into the global community in an extensive, practical and effective manner.
In a changing world, Pham reassured that Viet Nam does not take side, instead it chooses justice, fairness and goodness based on the principles of international law and the United Nations Charter. Viet Nam chooses equality, shared benefits for all and win-win for all./.