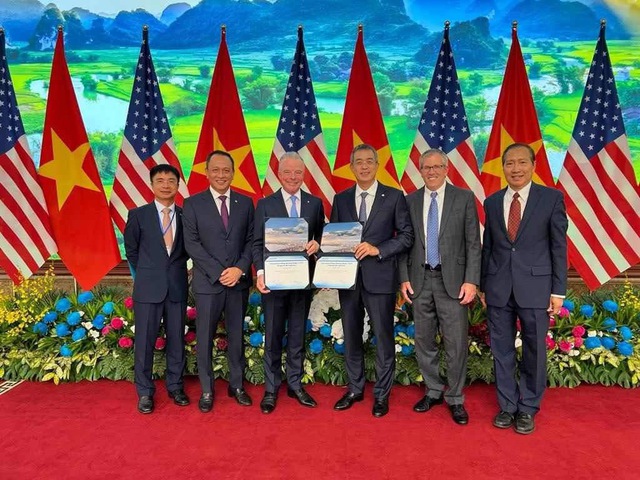 Specifically, Viet Nam Airlines and Boeing signed a memorandum of understanding (MOU) for the purchase of 50 Boeing 737 Max jets valued at around US$10 billion.
The move is part of the national carrier's efforts to upgrade its fleet and replace more than 40 older A321 planes with state-of-the-art planes.
Vietjet, a low-cost airline of Viet Nam, and U.S.-based financial group Carlyle signed an aircraft sponsorship agreement worth US$550 million, under which Carlyle Aviation Partners, a member of the Carlyle Group, will provide funding for the 737 Max aircraft series under the order of 200 aircraft between Vietjet and Boeing.
Meanwhile, Viet Nam Prosperity Joint Stock Commercial Bank (VPBank) and the U.S. International Development Finance Corporation (DFC) inked a Commitment Letter on a bilateral loan worth US$300 million with a seven-year tenor.
The loan arranged by DFC aims at improving Small- and Medium-sized Enterprises' (SMEs) access to finance, especially women-owned, women-led, and climate-focused SMEs in Viet Nam.
According to a press release of the U.S. Embassy in Viet Nam, Microsoft and Trusting Social will announce an agreement to develop a generative AI-based solution tailored for Viet Nam and emerging markets.
Seattle-based port operator SSA Marine and Vietnamese private company Gemadept will announce their intent to collaborate on strategic port projects in southern Viet Nam, including their joint interest in developing the proposed US$6.7 billion Cai Mep Ha Logistics Center.
Massachusetts-based Australis Aquaculture will sign an MOU with Khanh Hoa Province to invest an additional US$100 million to expand its sustainable aquaculture operations in Van Phong Bay.
FPT Chairman Truong Gia Binh on September 11 said he plans to invest US$100 million and nearly 1,000 human resources in the U.S. by the end of this year./.