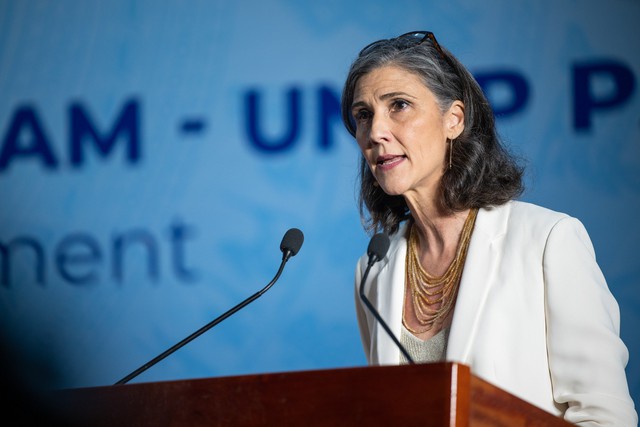 In her recent interview with VGP, Ramla Khalidi commended Viet Nam for reaching the JETP with the International Partners Group (IPG) consisting of the G7 countries plus the EU, Denmark and Norway.
This will include transitioning away from fossil fuels and coal power, adopting cleaner energy sources, increasing energy efficiency; and ensuring that the transition is equitable, inclusive and just.
The development of cleaner energy sources such as wind, solar and green hydrogen will bring about substantial economic opportunities for Viet Nam.
Strategic planning and investment can create a new renewable energy sector that will generate revenue and new green jobs throughout supply chains, including manufacturing, logistics, installation, maintenance, and research and development.
Importantly, this will help to enhance energy security reducing Viet Nam's reliance on unpredictable fossil fuel fluctuations and market uncertainties, thereby fostering economic stability and growth.
Notable social benefits of a shift away from coal power are reduced greenhouse gas emissions and lower levels of air pollution.
This, in turn, will lead to better public health outcomes by decreasing the prevalence of respiratory diseases and related health issues. The tangible results are reduced healthcare costs and an overall enhancement in the quality of life for the Vietnamese population.
Furthermore, the fruitful achievement of Viet Nam's JETP has the potential to contribute positively and significantly to regional and global efforts to combat climate change, noted the UNDP Resident Representative.
Viet Nam in advantageous position to realize JETP
According to Ramla Khalidi, Viet Nam is in an advantageous position to realize its JETP. One of Viet Nam's notable strengths is its wealth of renewable energy resources.
For instance, its vast coastline of more than 3,260 kilometers holds strong potential of over 600 GW for offshore wind power development, while its high levels of solar radiation have already made Viet Nam a regional leader in solar power development.
By tapping into these resources, Viet Nam can reduce its dependence on fossil fuels, diversify its energy mix and enhance its energy security.
Additionally, Viet Nam is situated in a prime geographic location and is a key member of ASEAN. As such, the country is well-connected and well-poised to export renewable energy to other countries, such as Singapore, strengthening regional cooperation and bringing economic benefits.
The initial commitment of the IPG and the Glasgow Financial Alliance for Net Zero (GFANZ) to mobilize US$15.5 billion for JETP in Viet Nam is a very good start, that can help to catalyze more capital from other development partners, investors, especially from the private sector.
Although Viet Nam has several distinct advantages, it also faces specific challenges in the implementation of its JETP.
First, transitioning to clean energy requires substantial upfront investments. For example, offshore wind will cost US$3.5-4.0 billion/GW, while modernizing and strengthening the national electricity grid is crucial to accommodate variable renewable energy sources, and requires an investment of US$49.5 billion for the period 2021-2050, equivalent to an investment of US$1,6 billion per year.
Such costs cannot be all financed by the state budget, so there is a need to mobilize private investment.
Second, decommissioning of some coal power plants will entail large financial compensation.
As all contracts with coal power plants are long-term, Viet Nam will have no choice but to pay investors if they break the contract and close coal power plants earlier than their previously agreed closure date. The compensation will vary, but it ranges from hundred million to few billion US$ per coal power plant.
According to the Power Development Plan VIII (known as PDP8), the investment needed for the power sector development alone until 2030 is US$134.5 billion. The full investment for JET is much larger.
To address the financing gap, a comprehensive approach to involve domestic and international private sector finance is needed as they have demonstrated and played a crucial role in developing renewable energy during the period from 2018 to 2021.
Therefore, development of the domestic financial sector—including public sector institutions and instruments to increase the supply of long-term financing—will be important.
Viet Nam should also focus on capacity building, technical expertise and research and development for the new renewable energy economic sector. This includes training of the new generation and retraining and upskilling of the existing workforce, recommended the UNDP Resident Representative.
Laying foundation for just transition in Viet Nam
Regarding the UNDP's assistance to ensure the implementation of JETP in Viet Nam, Ramla Khalidi said, throughout this year, the UNDP has had the privilege of providing support to the JETP Secretariat, including for the preparation of the JETP Scheme and the Resource Mobilization Plan.
Given the importance of the just aspects of the energy transition, UNDP is elaborating the chapter of the Resource Mobilization Plan centered around the just transition and taking a leading role in developing a programmatic concept note on the just aspects of the energy transition.
UNDP will work closely with key government ministries, IPG co-leads–the EU and UK-and IPG members, and other relevant stakeholders to develop a Just Transition Framework as a guideline for JETP implementation, to make sure that the just elements and social considerations of the energy transition are well-integrated throughout the development and implementation of the Resource Mobilization Plan.
The Just Transition Framework is designed to incorporate and supplement existing safeguards for energy projects, laying the foundation for a just transition in Viet Nam.
The Just Transition Framework will also guide stakeholders to identify the areas that face potential social, economic and environmental impacts to ensure the sustainability and resilience of JETP investments and ensure that no one is left behind.
Further, it will be used as a tool for the monitoring and evaluation of the just outcomes during the implementation of the JETP.
"UNDP believes that a just transition is essential for Viet Nam to realize the Sustainable Development Goals and build a better future for all its people", shared Ramla Khalidi./.