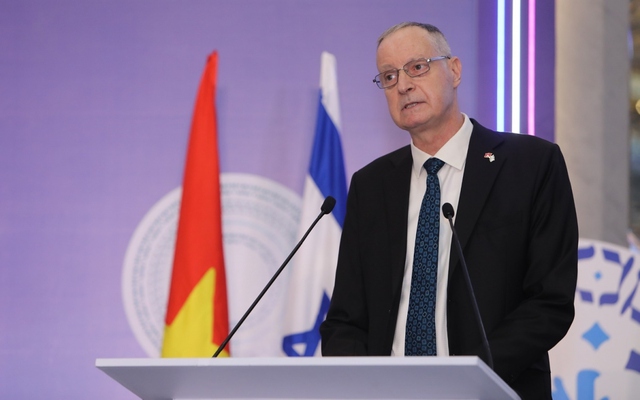 He made that above statement regarding Viet Nam's fresh introduction of a number of new visa policies, including extending e-visas validity for foreigners entering the nation from 30 to 90 days, and granting e-visas to all foreign arrivals from mid-August (including visitors from Israel).
The Ambassador noted that this is a very welcomed and blessed amendment move that the Vietnamese authorities have made.
Viet Nam agreed to add Israel to its e-visa project, allowing Israeli citizens to obtain a fast and affordable electronic visa to the country without the need to visit an embassy or pay a fee.
In the last few years, many Israelis wished to visit Viet Nam, he said.
Before the COVID-19 pandemic, around 20,000 Israeli tourists visited Viet Nam annually, and the change in visa will help strengthen the tourism linkage between the two countries.

"This amendment brings very welcome change and it is a good and positive step for the bilateral relations," he said.
"We are quite sure that the recently inked Viet Nam-Israel Free Trade Agreement, the change in visa, and direct flight policy will lay the foundation for a strengthened bilateral cooperation," he added.
Regarding Viet Nam's tourism potential, the Ambassador said that Viet Nam is becoming one of the world's top destinations owing to its endless natural beauty. The nation has white sand beaches, limestone mountains, terraced rice fields, and beautiful countryside.
The country is also home to exciting blazing cities, which attract tourists by architectural works with century-old historical and cultural imprints.
"I have been to many places and I plan to visit more in Viet Nam. I would very much like to travel as a tourist in the country because Vietnamese people is friendly, warm-hearted, and helpful," the diplomat said.
Viet Nam is also a good choice for tourists who want to travel in low-budget, he said, adding that the nation has great potential for developing tourism and should intensify tourism promotion to attract more foreign visitors.
More international flights to Viet Nam along with improvement in infrastructure will further create abundant opportunities for tourism in the country, he suggested./.