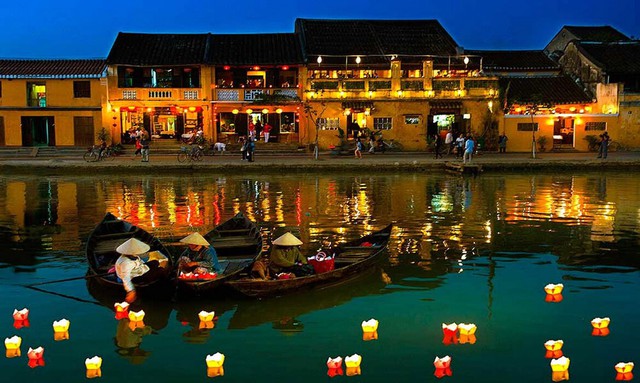 Hoi An ancient city ranks 13th and Ho Chi Minh City at 14th in the list, scoring 87.86 points and 87.64 points, respectively.
Earlier, Hoi An was placed 9th out of the top 10 trending destinations in the world, according to The Travel, a well-known travel site in Canada.
It is an exceptionally well-preserved example of a small-scale trading port active the 15th to 19th centuries which traded widely, both with the countries of Southeast and East Asia and with the rest of the world.
The town comprises a well-preserved complex of 1,107 timber frame buildings, with brick or wooden walls, which include architectural monuments, commercial and domestic vernacular structures, notably an open market and a ferry quay, and religious buildings such as pagodas and family cult houses.
The houses are tiled and the wooden components are carved with traditional motifs.
Meanwhile, Ho Chi Minh City is always an attractive destination for domestic and foreign tourists.
As Viet Nam's biggest economic engine and largest city, Ho Chi Minh City offers plenty to see and eat, from the buzzing of District 1 with its cultural attractions to all the street food in District 4. Ho Chi Minh City is a gateway to Viet Nam's rich and turbulent history.
Preserved historic sights include the Notre Dame Cathedral of Saigon, a neo-Romanesque and Gothic cathedral built by French colonists in the late 1800s; Cu Chi Tunnels, underground tunnels used by guerrilla troops; and the War Remnants Museum, an often-disturbing look at the atrocities of the decade-long war.
In its survey, Travel + Leisure asked readers to weigh in on travel experiences around the globe to share their opinions on the top hotels, resorts, cities, islands, cruise ships, spas, airlines, and more.
Nearly 165,000 readers completed the 2023 survey, an increase of nearly 25 percent over pre-pandemic voting levels.
Cities were specifically rated on the criteria including sights/landmarks, culture, food, friendliness, shopping and value.

Viet Nam welcomed 975,000 foreign visitors in June, bringing the total number in the first half of 2023 to 5.6 million, up 9.3 times from the same period last year, according to the General Statistics Office (GSO)./.