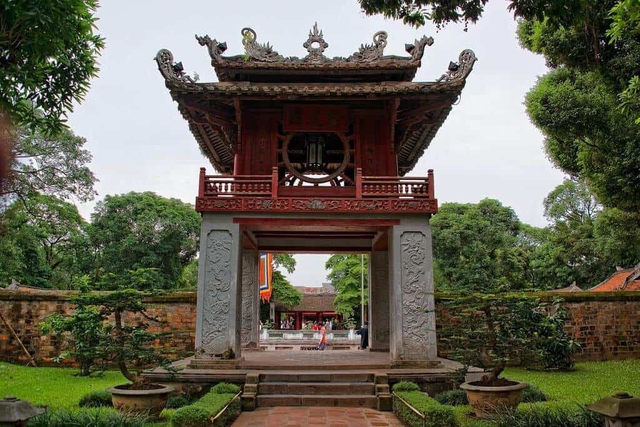 According Tripzilla, the capital city of Viet Nam is generally a safe place for travelers. Violent crimes against tourists are rare and most locals are friendly.
"Ha Noi has a wealth of cultural attractions, so take your time to delve into them. The city's Old Quarters exudes an eccentric charm with its narrow alleys, quaint shophouses, and medieval architecture. The late Gothic St. Joseph Cathedral is also found here. The church is dedicated to Viet Nam's patron saint and resembles Notre Dame in Paris.
To understand Viet Nam's pre-colonial past, visit the Temple of Literature, an 11th-century Confucian temple dedicated to the nation's scholars, and the Ngoc Son Temple at the center of Hoan Kiem Lake, which honors three important figures in Vietnamese history. Afterwards, stop by one of the best cafes in the city to relax and enjoy authentic Vietnamese coffee", the website highlighted.
Tripzilla noted that: "Ha Noi is a budget-friendly destination, you won't need to worry about costs much as a solo traveler. A stay in a Ha Noi luxury hotel can cost as little as US$200, and meals cost around US$14 per day. Feel free to pamper yourself while staying in this beautiful city, which is undoubtedly one of the best places to travel alone as a woman in Southeast Asia".
Earlier, The Travel, a leading tourism website in Canada, named Ha Noi among the 10 most beautiful Southeast Asia destinations.
The capital city was honored as Asia's Leading City Break Destination at the World Travel Awards (WTA) 2022 – Region: Asia & Oceania and named among Trip Advisor's top 25 popular destinations in Asia and sixth in the global list in 2022.
Ha Noi's Department of Tourism has estimated that 18.7 million tourists visited the capital city in 2022, 4.7 times higher than the figure of 2021 and equal to 64.7 percent of the number in 2019–the year before the COVID-19 pandemic broke out.
The total number included 1.5 million foreign holidaymakers and 17.2 million domestic visitors, the department said.
The city served 3.73 million visitors, including 535,000 foreigners, in the first two months of this year./.