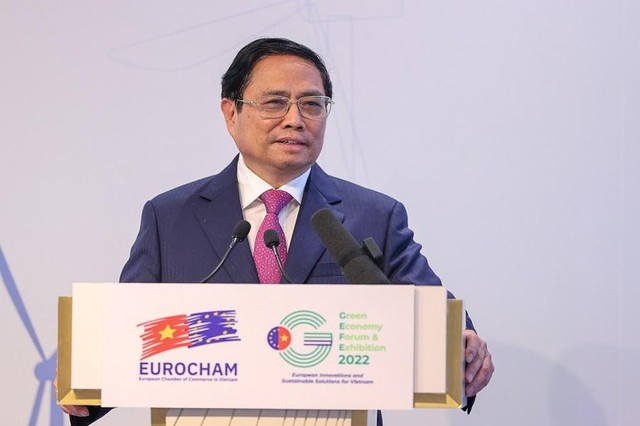 The Vietnamese Government chief made the statement when delivering a keynote speech at the "Green Economy Forum and Exhibition (GEFE) 2022 in Ho Chi Minh City on November 28.
He spoke highly of the European Chamber of Commerce in Viet Nam (EuroCharm) and the Delegation of the European Union to Viet Nam for their collaboration with Vietnamese ministries, agencies and localities in jointly hosting GEFE 2022 entitled "European innovations and sustainable solutions to Viet Nam."
The Prime Minister said that tackling climate change and achieving green growth is not a single country's job but a global one, thus requiring global solidarity and multilateralism.
Viet Nam pursues sustainable growth and does not trade off environment for economic growth, emphasized Pham, noting that the country has adopted the National Green Growth Strategy for 2021-2030.
He went on to say that Viet Nam is also one of the 150 countries committing to net-zero emissions by mid-century. The Southeast Asian nation joined hands with over 100 countries participating in the Commitment to reduce global methane emissions by 2030.
Viet Nam also joined 48 countries in the Global Declaration on the transition of coal power to clean energy and cooperated with 150 countries in the Global Adaptation Coalition.
The Prime Minister asserted that the Vietnamese Government will continuously make it easier for the EuroCham and its business members to partake in high-tech and renewable energy sectors.
The Government will continue to improve the investment environment, cut input costs for businesses, and encourage the green economy, digital transformation and circular economy, ensure political stability, social order and safety, promote public-private cooperation, diversify supply chains, diversify products and markets and encourage innovation into emerging industries, said Pham.
Investment in Viet Nam is not only for economic benefits but also for human development, for the sake of Viet Nam-European friendship, the Government chief stressed.
He called on European investors to transfer modern technologies at cheap costs in accordance with the socio-economic situations in Viet Nam in the interest of win-win benefits and sharing risks.
Ready to pump billions of USD to wind energy
Earlier, Prime Minister Pham Minh Chinh hosted receptions for leaders of European companies namely Equinor, CIP, Mainstream, Vestas, Airbus, HSBC, Suez, Siemens Gamesa, Schneider, during which he thanked those enterprises for their investment in Viet Nam.
The European corporations and groups assessed that the Viet Nam owns abundant potential for renewable energy development, pledging to pour billions of dollars in Viet Nam's wind energy sector.
A council of major corporations has been formed to create a "greener and more responsible" global supply chain in a bid to help Viet Nam move towards realizing this goal.
On this occasion, Prime Minister Pham cut the ribbon to launch the green economy exhibition which brings 20 European best practices and technologies to Viet Nam to support the country in its ecological transition./.