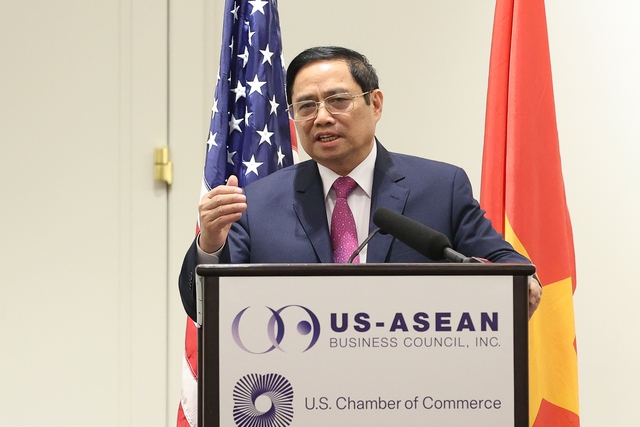 The Government chief made the above statement at a meeting with the American business community jointly held by the U.S.-ASEAN Business Council and the U.S. Chamber of Commerce in Washinmgon D.C., on May 12 (local time).
The U.S. has become Viet Nam's second largest trade partner. On the other hand, Viet Nam is the ninth largest trading partner of the U.S. The two-way trade turnover hit nearly US$112 billion last year despite impacts of the COVID-19 pandemic, noted Pham, adding that there remains vast room for economic development between the two countries.
The U.S. is also one of the largest investors in Viet Nam with over US$ 10 billion of registered capital. However, the figure is modest in comparison with potentials it has, said Pham.
Viet Nam was named among the world's top 20 host economies for foreign direct investment, according to UN Conference on Trade and Development (UNCTAD).
The country targets to become a developing country with developed industry by 2025, a developed country with modern industry and upper middle income by 2030 and a high income country by 2045.
In order to fulfill the targets, Viet Nam continues to build an independent, self-reliant, proactive and active economy with practical and effective international integration, he said.
Pham reassured that Viet Nam will continue sticking to its foreign policy of independence, self-reliance, diversification and multilateralization, for peace, friendship, cooperation and development; and being a trustworthy partner and an active and responsible member of the international community.

Also at the meeting, the Prime Minister directly exchanged and clarified questions raised by the American business community in the fields of digital transformation, energy transition, climate change response, health, epidemic prevention, business environment improvement, and cyber security.
On this occasion, he suggested that the U.S. side continue to support Viet Nam in overcoming the consequences of the war./.