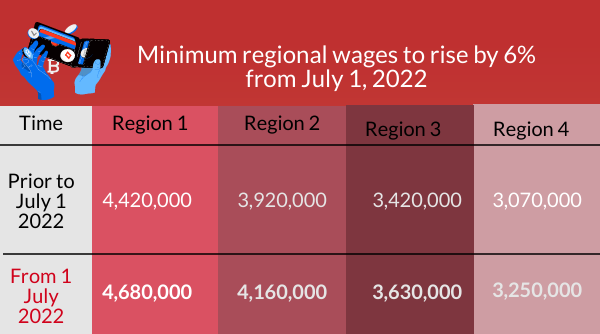 Regional minimum wage increase
Decree No. 38/2022/ND-CP, dated June 12, 2022 on regional minimum wage increase will come into effect from July 1.
The wage increase applies to employees who work under labor contracts prescribed by the Labor Code, which include businesses, organizations, cooperatives, households, and individuals that hire employees on labor contracts.
The new decree also stipulates new minimum hourly pay of VND 22,500 per hour in Region 1, VND 20,000 per hour in Region 2, VND 17,500 per hour in Region 3, and VND 15,600 in Region 4.
New-style passports from July 1
Circular No. 73/2021/TT-BCA of the Ministry of Public Security on passport specimens will take effect from July 1.
The new passport form will be printed with Vietnamese spectacular sceneries and cultural heritages, namely Ha Long Bay, Hue Citadel, Hoi An Ancient Town, My Son Sanctuary, Nha Rong Habour, Lung Cu Flag Tower, and so on.
Apart from promoting the images of Viet Nam to the outside word and upholding the tradition, history, geography and culture of the country, the new passport form is expected to ensure technical safety and prevent counterfeiting.
Vietnamese citizens can access http://dichvucong.gov.vn or http://dichvucong.bocongan.gov.vn to make an online declaration, pay fee and receive their passports by post or collect them at immigration offices.
Tuition fees for lecturers sent abroad for doctoral training

Circular No. 30/2022/TT-BTC of the Ministry of Finance, dated July 20, 2022 guiding the financial mechanism for implementation of the scheme on improving the capacity of lecturers and administrators of higher education institutions to meet the requirements of fundamental and comprehensive renovation of education and training in the 2019 - 2030 period.
Payment shall be made according to a contract signed between the Ministry of Education and Training and a foreign training institution or according to the rate announced by the foreign training institution. The payment shall not exceed US$25,000/learner/academic year.
Learners shall be provided with the airfare for one ticket from Viet Nam to the place of study and one ticket from the place of study to Viet Nam for the entire training period; one-time support of travel expenses equal to US$100/person for the entire training period; and other expenses arising during the training./.