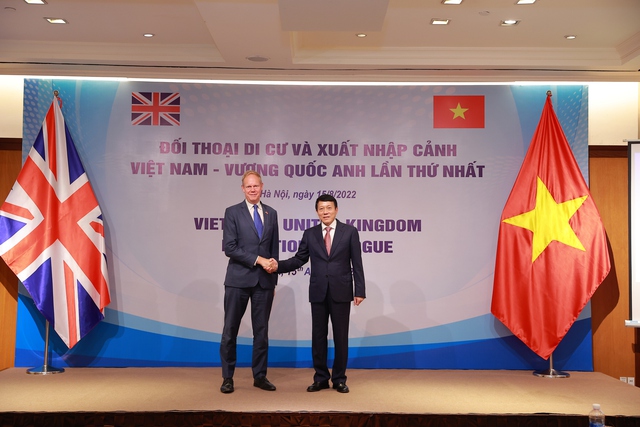 UK Home Office Permanent Under-Secretary Matthew Rycroft and Deputy Minister of Public Security Luong Tam Quang co-chaired the event.
The dialogue aims to seek ways to improve migration cooperation and deliver on the potential of the existing migration partnership.
Key issues were discussed during the dialogue including communication on immigration and safe migration, migrant returns, fraudulent documents and updated policies on immigration and migration management and human trafficking combat.
The dialogue was part of UK Home Office Permanent Under-Secretary Matthew Rycroft's two-day visit in Viet Nam.
During the visit, he met with Viet Nam's Minister of Public Security, Deputy Minister of National Defense, and Deputy Minister of Labor, Invalids and Social Affairs.
The two sides discussed collaboration in tackling serious organized crime with a focus on human trafficking crimes as well as exploring more opportunities to cooperate further in capacity-building and supporting and protecting victims of human trafficking.
Speaking of his visit, Matthew Rycroft said that the UK and Viet Nam are strong strategic partners, and look forward to celebrating 50-year diplomatic partnership in 2023.
Apart from collaborations in trade, education, research, technology innovation and climate change, tackling illegal migration and human trafficking is hugely important and mutually beneficial to both countries, he added.
"We are committed to working together on ensuring safe and legal routes to the UK as well as protecting victims of human trafficking, and putting an end to this awful crime", emphasized Matthew Rycroft.