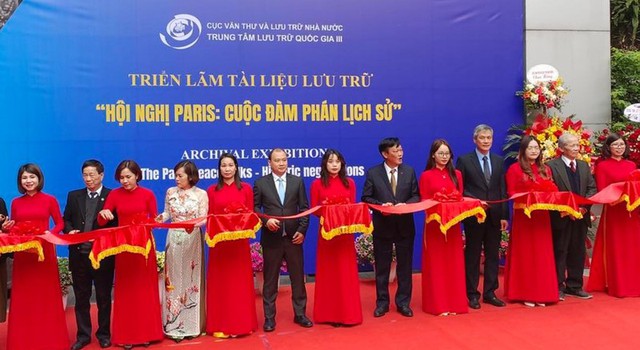 The National Archives Center III under the Ministry of Home Affairs' State Records and Archives Department held the exhibition on the 50th anniversary of the signing of the Paris Agreement on ending the war and restoring peace in Viet Nam (27/1/1973-27/1/2023).
Attending the opening ceremony were Mr Le Hai Binh, alternate member of the Party Central Committee, Deputy Head of the Party Central Committee's Commission for Education and Communication, Deputy Minister of Home Affairs Nguyen Duy Thang, leaders of several ministries and agencies, diplomats, and historical witnesses.
In his remarks, Deputy Minister of Home Affairs Nguyen Duy Thang stressed that the exhibition was of historical and cultural significance, contributing to promoting the value and efficiency of using archival materials.
The event is a testament to the cooperation between Viet Nam National Archives with US Archives, French Archives and Russian Archives, helping historical and diplomatic researchers gain a more comprehensive view of the historical significance of the 1973 Paris Agreement.
The exhibition consists of three parts: "Towards negotiations in Paris", "Paris Conference-The Fierce Confrontation", and "Paris Agreement-Historical Milestone".
The documents, images and artefacts on display are being preserved at the National Archives Centers II and III; the archives of the Foreign Ministry, the Viet Nam National Museum of History, the national archives of the US and Russia, the liaison board of war veterans who once served in the Joint Military Group at Davis Camp, and some witnesses of the negotiation.
The exhibition provides an overview of the national and international circumstances leading up to the Paris Conference, demonstrating the decisive will and role of the parties involved in the negotiation process./.