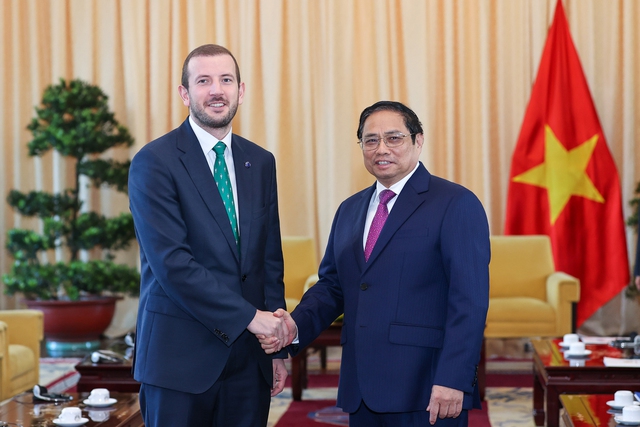 Prime Minister Pham made the above request in Ho Chi Minh City on November 28 during a reception for Mr. Virginijus Sinkevičius, the European Commissioner for Environment, Oceans and Fisheries, who is in Viet Nam for the "Green Economy Forum and Exhibition (GEFE) 2022.
Vet Nam has actively taken actions to perfect the legal framework, strengthening the law enforcement, raising people's awareness after the EC issued the warning, Pham stressed.
He said that GEFE 2022 offers a good chance for European partners to introduce their solutions and technologies to support Viet Nam in achieving its COP26 commitments and the socio-economic development goals specified in its National Green Growth Strategy for 2021-2030.
Viet Nam, said Pham, always regards the EU as one of the leading partners in its foreign policy. He also praised developments in the relations between Viet Nam and the EU in all fields.
The Government chief suggested the two sides strengthen exchanges of delegations, especially at high level and optimize the EU-Viet Nam Free Trade Agreement (EVFTA).
The Prime Minister expressed Viet Nam's aspiration to promote cooperation with the EU in the field of sustainable development of the marine economy, promote the effective management of marine resources towards sustainable marine development, ensure safety, security, peace and stability for seas in the face of traditional and non-traditional security challenges.
In reply, the Commissioner said the EU acknowledged Viet Nam's efforts in sustainable fisheries transformation as well as the country's commitments to climate change and its roadmap to net-zero emissions by 2050.
Virginijus Sinkevičius affirmed that the EU stands ready to cooperate with Viet Nam in climate change response, green growth, and energy transformation.
Regarding the IUU prevention, the EC appreciated the close coordination with Vietnamese competent agencies and hailed the achievements Viet Nam has attained, said Virginijus Sinkevičius.
He suggested the two sides consider possible cooperation fields of ocean plastic waste prevention and establishment of a cooperation mechanism on forest protection and development./.