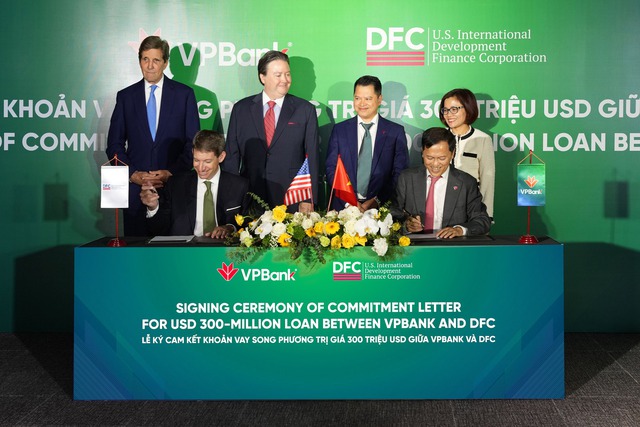 The loan arranged by DFC aims at improving Small- and Medium-sized Enterprises' (SMEs) access to finance, especially women-owned, women-led, and climate-focused SMEs in Viet Nam.
The signing ceremony of the Commitment Letter between DFC and VPBank was held at VPBank's headquarters in Ha Noi the morning of September 10, 2023, witnessed by U.S. Ambassador to Viet Nam Marc Knapper, Special Presidential Envoy for Climate John Kerry, DFC CEO Scott Nathan, and VPBank Chairman Ngo Chi Dung, along with other leaders of both organizations.
DFC, the U.S. government's development finance institution, was established in 2019 under the Better Utilization of Investments Leading to Development (BUILD) Act and focuses on bringing private capital to the developing world. DFC's mission is to promote US diplomatic policies and catalyze investment in private sector-led development.
The signing ceremony took place within the framework of the official visit of U.S. President Joe Biden to Viet Nam from September 10-11, on the 10th anniversary of Viet Nam-U.S. comprehensive partnership, demonstrating the two countries' positive and increasingly tightened cooperative relationship in many areas.
The approval of the loan from DFC, a U.S. government agency with international standards and prudent credit appraisal standards and processes, to VPBank has once again affirmed VPBank's position as the market-leading commercial bank in Viet Nam.
The USS300-million (VND7.2-trillion equivalent) loan comes with a seven-year tenor. This loan will serve as an important source of financing to help strengthen VPBank's capital base, which in turn will promote sustainable lending activities in line with the bank's growth strategy.
These include supporting SMEs, women-owned or women-led SMEs, as well as shifting the bank's portfolios towards climate-focused and low-carbon technology projects.
Over the past years, VPBank has always been one of the leading banks in Viet Nam that move ahead with environmental, social and climate contribution through developing and acting on a sustainable and consistent financial development strategy with clear awareness of accountable lending principles.
Prior to the loan extended by DFC, VPBank has been able to secure a number of large-sized syndicated loans worth over a billion of dollars since 2020 from reputable lenders worldwide.
In particular, VPBank has lately fruitfully mobilized a US$500-million syndicated loan at the end of 2022 with five reputable financial institutions, namely the Asian Development Bank (ADB), Sumitomo Mitsui Banking Corporation (SMBC), Japan International Cooperation Agency (JICA), ANZ Bank and Maybank Securities Pte. Ltd./.