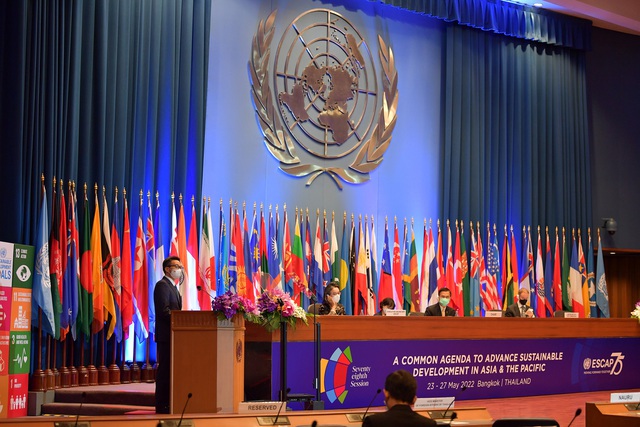 Addressing the 78th session of the Economic and Social Commission for Asia and the Pacific (ESCAP) on Monday, Vu emphasized that it is essential to always place people at the center of all activities, all decisions.

It is also vital to build a social welfare system, ensuring people's full access to basic services, and employment with stable income, and enhancing capacity in healthcare preparedness and resilience, he said.
The Deputy Prime Minister also called for strengthening regional connectivity, particularly in transport, energy, IT and communications, ensuring supply chain resilience, promoting digital transformation, and narrowing the digital gap.
He underlined the importance of promoting innovation and mobilizing resources to realize initiatives, transition to a low-carbon growth model, developing green and circular economy, and responding to climate change.
"We need to promote stronger partnerships, advance multilateral initiatives and close cooperation with international and regional organizations, including ASEAN," stated Vu.
ESCAP needs to further promote its role in building and implementing regional agreements and cooperation frameworks, and create an environment conducive to exchanges of knowledge, ideas, and cooperation projects, he said, adding that such efforts will better assist member countries in recovery and socio-economic recovery.
As a result of Doi Moi (reform) in the past decades, Viet Nam has risen to become a low-middle income country. Our economy has grown rapidly in scale, our investment climate continuously improved, and our economic growth is harmoniously linked to cultural and social development. Social progress and fairness are promoted, and priority is given to protection of natural resources and the environment.
Viet Nam's efforts
Vu said Viet Nam's efforts to fulfil the Sustainable Development Goals (SDGs) have also yielded positive outcomes. According to the Sustainable Development Report 2021, Viet Nam has moved up 37 places to rank 51st out of 165 countries as compared to 2016. Multi-dimensional poverty has been greatly reduced, coverage of education and essential healthcare services is higher than many countries at the same income level.
The share of renewable energy is rising rapidly, and IT infrastructure has been significantly improved.
Like many countries, Viet Nam has managed to contain the COVID-19 pandemic, and transitioned to safe and flexible adaptation. Socio-economic recovery has been recorded in most areas, at a rate close to the pre-pandemic growth level.
Along the way, Viet Nam has received invaluable support from the international community, including the United Nations, and ESCAP in particular.
Vu expressed hope that Viet Nam would continue receiving this cooperation and assistance to realize our aspiration for national development, meet the SDGs and realize its commitments at the COP26, including the target of net zero emissions by 2050.
He affirmed Viet Nam will continue to actively, responsibly and effectively contribute to the efforts of ESCAP and the United Nations as a whole, for peace, stability, and sustainable development in the region and the world at large.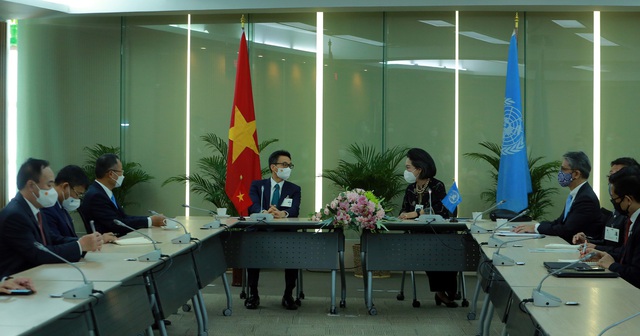 The same day, Deputy Prime Minister Vu had a meeting with Under-Secretary-General of the UN and Executive Secretary of ESCAP Armida Salsiah Alisjahbana.
He vowed to advocate the Bangkok Declaration which will be adopted at the 78th session of the ESCAP, suggesting the ESCAP provide more assistance for developing nations, including Viet Nam to speed up the implementation of the SDGs.
For her side, Armida Salsiah Alisjahbana welcomed and spoke highly of the contributions of Viet Nam to the ESCAP, asserting that the ESCAP stands ready to support the Southeast Asian nation in accelerating the realization of the SDGs via training and consolidating its data system.