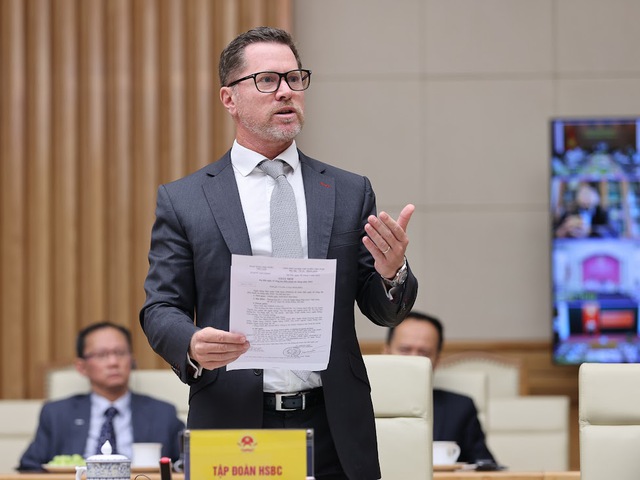 In his remarks at the conference chaired by Prime Minister Pham Minh Chinh last week, Tim Evans said that when it comes to economic growth and foreign direct investment (FDI) attraction, Viet Nam has already been a success story before COVID-19.
Now, the country is on track to deliver 7 percent GDP growth, he said, adding that Viet Nam has an incredible brand.
Tim Evans stressed the need to tell Viet Nam's story to the world and leverage this to attract FDI and ensure that the nation remains an appealing destination for investors.
Opening up a world of opportunities amidst challenges
Viet Nam is consistently one of the world's top FDI receivers relative to GDP, ranking second only to Malaysia among ASEAN economies.
In order to maintain its position and go beyond, the Government and its bodies need to continue the economic recovery initiatives and reforms, particularly when the world is now facing multiple challenges and uncertainties.
The global fight against inflation continues with recent August global data showing further increases in key commodity prices inclusive of energy.
Spearheaded by the FED's recent rate hikes, central banks around the world continue to take tightening measures. This is expected to result in partial and uneven recessions in different parts of the world.
Against this backdrop, Viet Nam stands resiliently against external shock waves, seeing a broad-based recovery and inflation broadly under control.
There is an opportunity in every challenge, this is a great opportunity for the country to promote FDI and enhance its visibility and competitiveness as an investment destination.
Apart from the usual attributes that make Viet Nam attractive like stable/consistent government, 15 free trade agreements (FTAs) with the world, a cost competitive proposition, the resilience and work ethic of the Vietnamese and a stable currency, there are other areas where Viet Nam can work to make itself even more appealing.
Areas of focus should be on updating legal frameworks especially on foreign exchange, accounting, tax and customs to allow multinational companies to fully integrate their Viet Nam operations into their global operating platform as well as supply chain localization to enable more high value processes to be undertaken in Viet Nam.
Many of HSBC's clients have invested significantly so as to increase their Viet Nam capacity turning it into one of their key production hubs.
For Viet Nam to remain an attractive destination for investors
The CEO of HSBC Viet Nam proposed some recommendations to help Viet Nam improve investment environment, tackle difficulties, and support businesses.
Infrastructure improvement is a must, he underscored, adding that upgrading and modernizing existing infrastructure would empower Viet Nam to reduce the barriers to trade and strengthen its ability to attract FDI.
Promoting a regular public session on clarification of key regulations and policies covering capital flows, funding, setting up businesses and sector specific incentives related to attracting FDI.
This will enable prospects and existing FDI companies to gain further clarity on the local environment and thereby support additional investment.
Investors on average require 6-9 months to set up business as opposed to their expectation of three months.
Remarkably, Tim Evans noted that investors in Viet Nam benefit from the 15 FTAs in place offering access to 55 markets including 15 from the G20. Active promotion of this from related ministries and agencies to highlight the key benefits of these FTAs will broaden interest from potential investors.
As the nation continues to climb up the value ladder, availability of skilled resources is an important consideration for foreign investors. A focus on developing more skilled labor will be crucial to promote and attract high value investment into high value sectors like semiconductors, automotive engineering, fintech, logistics, etc.
Viet Nam has achieved many milestones in its digitization roadmap and should continue efforts in consistently transforming across areas such as cross border payments, tax, customs. The simplification and consistency of these are critical for the country to attract additional investment.
FDI attraction is equally important as sustainability for the country. Now that Viet Nam has made its ambitious commitment at COP26, sustainability has gained more attention.
"Green FDI" will be a key trend that Viet Nam should definitely look out for in the future. In fact, to attract "green FDI", the country has been driving the economy towards green growth, sustainability and lower greenhouse gas emissions through National Green Growth Strategy 2021-2030 with a vision to 2050.
The Government has worked out the National Action Plan for 2021-2030 to carry out this Strategy, with specific missions and targets for each sector.
There is a need for Viet Nam to continue to roll out the green agenda and getting Power Development Planning VIII approved would be a strong step forward in attracting more FDI into the renewable energy space, Tim Evans recommended.
HSBC vows to support Viet Nam's long-term growth journey sustainably
HSBC has been actively playing its role to bridge Viet Nam to the world and support the country in attracting FDI over years.
For the first half of 2022, the HSBC supported global corporates in their moved to Viet Nam in the semiconductor, technology, infrastructure and logistics sectors. These alone had registered capital of USS 2.2 billion which accounted for approximately 45 percent of all new registered FDI into the nation.
The bank had a memorandum of understanding with the Foreign Investment Agency (FIA), under the Ministry of Planning and Investment (MPI), to work together on promoting Viet Nam to corporate throughout global footprint and thereby support the nation's FDI and economic growth story.
In support of sustainability in Viet Nam and the Government's climate goals and COP26, the HSBC is committed to arranging up to USS12 billion of direct and indirect green financing for Viet Nam by 2030.
The bank has also been working with government bodies to run major transition initiatives and projects under the National Strategy on Climate to enhance the strategic partnership in the field of Sustainable Finance covering sustainable financing frameworks, product capabilities and risk management considerations.
The HSBC is also committed to working and supporting Viet Nam to be qualified for upgrading into emerging market status. Once emerging market status is achieved, all market participants are benefited from a significant increase in FDI inflows, expanding and diversifying investor base of the stock market.
"We look forward to continuing to work together with the MPI and FIA on promoting the story of Viet Nam to existing and prospective investors, in turn supporting the country's long-term growth journey sustainably, helping Viet Nam as rising star continues to shine globally", stated Tim Evans.