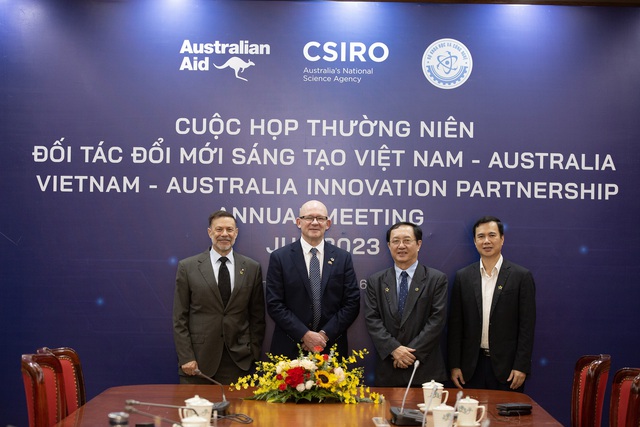 The information was announced at the Viet Nam-Australia Innovation Partnership Annual Meeting which took place in Ha Noi on June 30.
The Australian Government has been investing in the development of an innovation ecosystem in Viet Nam since 2018 through its flagship Aus4Innovation program.
The Aus4Innovation program is delivered through a tripartite partnership between the Australian Department of Foreign Affairs and Trade (DFAT), CSIRO-Australia's national science agency, and Viet Nam's Ministry of Science and Technology (MoST).
To date, the program has explored emerging areas of technology and digital transformation, trialed new models for partnerships between public and private sector institutions, and strengthened Vietnamese capability in digital foresight, scenario planning, science commercialization, and innovation policy.
After five years in operation across 37 provinces in Viet Nam, the program has laid the foundation for 82 partnerships between Australian and Vietnamese universities, research agencies, high-tech businesses, and policy makers.
It has established a pool of 875 trainers and experts through capacity building activities and demonstrated 12 innovative solutions to exemplify how innovation and technology can solve socioeconomic challenges.
Besides, the program has contributed to national policies on science, technology and innovation, as well as developed practical tools for innovation policy development to help contribute to a more enabling environment.
It has also developed 8 platforms to enable collaboration in innovation across research institutes and businesses.
"As our two countries are working towards upgrading our relations to a Comprehensive Strategic Partnership, we will continue to deepen our cooperation in trade and investment, defense and security, and knowledge and innovation", said Australia's Ambassador to Viet Nam Andrew Goledzinowski at the event.
The partnership between CSIRO and MoST was formalized in 2018 with a Memorandum of Understanding to further science, technology and innovation collaboration.
In June 2023, this collaboration has been being further enhanced through another Memorandum of Understanding between Australia's Department of Foreign Affairs and Trade (DFAT) and MoST, which was inked during the official visit to Viet Nam by Australian Prime Minister Anthony Albanese.
Speaking at the event, Minister of the MoST expressed his delight that the partnership with Australia, through the Aus4Innovation program, has delivered tangible, significant results that are having substantial positive impact on the lives of the Vietnamese people.
With 2023 marking the 50th year of diplomatic relations between Australia and Viet Nam, the enhanced investment into Aus4Innovation is a meaningful demonstration of Australia's continued commitment for the sustainable and inclusive development of Viet Nam./.