Opportunity to upgrade Viet Nam-Australia relations to next level
VGP - Australian Prime Minister Anthony Albanese's official visit to Viet Nam is expected to create chances for both nations to review their cooperation across all the different areas and discuss the opportunity to upgrade their bilateral relationship to the next level.
June 03, 2023 11:52 PM GMT+7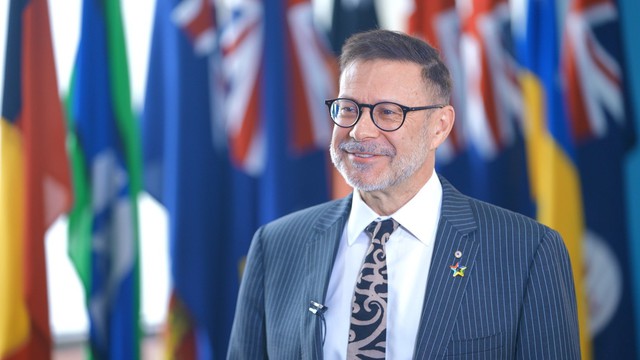 Australian Ambassador to Viet Nam Andrew Goledzinowski made the above statement in his recent interview with the VGP ahead of the Australian Prime Minister's two-day official visit to Viet Nam.
According to the Ambassador, Australia was among the first countries to establish diplomatic relations with Viet Nam after the conclusion of the Paris Peace Accords in 1973. This year, both nations are celebrating the 50th anniversary of diplomatic ties.
Andrew Goledzinowski underlined the significance of the Australian Prime Minister's visit because it is not just an opportunity to look back on the last 50 years of Viet Nam-Australia relations but also look forward to the next 50 years of cooperation.
It is also the first visit by Prime Minister Anthony Albanese to Viet Nam, he noted, adding that the Albanese Government was selected only just one year ago with a strong commitment to closer engagement in Southeast Asia, particularly Viet Nam.
Currently, Viet Nam-Australia Strategic partnership covers three pillars, including economic cooperation, trade and investment; knowledge; innovation and education; and defense and strategic cooperation.
Viet Nam-Australia relations grow strongly across all sectors
Regarding achievements in the bilateral ties, the diplomat reiterated that Viet Nam is a very important economic partner for Australia.
Viet Nam has become the world's 15th most populous nation and the fastest growing economy in Asia.
The two nations' economic relations have grown quite quickly. In the last few years, Australia has risen to be Viet Nam's seventh biggest trading partner, noted Andrew Goledzinowski.
Australia has been one of the first investors in Viet Nam, with the first foreign bank, the first international law firm and the first international university in the country.
It was Australia that helped build the electricity hypertension connection between North and South in Viet Nam. The first satellite links for telephone calls and the first undersea cables are developed by Australian investors.
In terms of defense cooperation, there is much scope for further cooperation between the two countries, highlighted the Ambassador.
Both sides have strengthened collaboration in a number of areas, particularly United Nations (UN) peacekeeping operations, and skills training.
"In a few weeks time, I will be with President Vo Van Thuong to bid farewell to the next rotation of the Vietnamese peacekeepers to Africa, and Australia is very much involved in that efforts", shared the diplomat.
Australian Ambassador to Viet Nam Andrew Goledzinowski talks about the significance of Australian Prime Minister Anthony Albanese's upcoming official visit to Viet Nam
Heading to establish a new pillar in bilateral ties
With move to a Comprehensive strategic partnership, Viet Nam and Australia would like add a fourth pillar to the to the relationship, which is climate change adaption and energy transition, said Andrew Goledzinowski.
The two nations have some similarities although they have different geographies. Both are very dependent on carbon sources of energy at the moment.
But at the same time, the two sides have made very ambitious commitments to decarbonize their economies. So, how to achieve the targets would be very important because they want to make sure that their economies continue to grow through this period, he added.
Currently, Australia is investing in wind power in Viet Nam and is working with VinFast to help them distribute their charging station network around the country. Meanwhile, Australia is a co-investor with VinGroup in developing green buses in Viet Nam.
The Ambassador expected that there will be some important announcements emerging from Prime Minister Albanese in his upcoming visit to Viet Nam, precisely on climate change response and energy transition issue./.