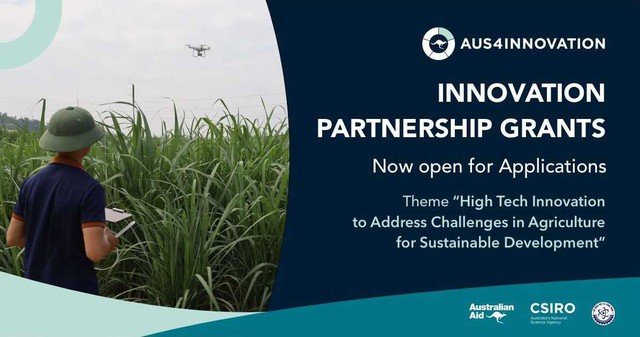 The scheme aims to provide targeted funds to scale already tested activities that address emerging challenges and opportunities in Viet Nam's innovation system.
Managed and implemented by CSIRO, and delivered in strategic partnership with Viet Nam's Ministry of Science and Technology, the Aus4Innovation program has previously supported three funding rounds to 12 projects and all of them have delivered successful results.
Under the theme "High Tech Innovation to Address Challenges in Agriculture for Sustainable Development", this round will welcome ideas that utilize technology to address challenges such as improving productivity in production and processing, enhancing the use of resources in agriculture, developing domestic and export markets for agricultural products, contributing to climate change adaptation/mitigation and resilience, or ensuring benefits for disadvantaged groups.
Australian Ambassador to Viet Nam Andrew Goledzinowski said, with the recent extension of the Aus4Innovation program to 2028, Australia is committed to supporting Viet Nam develop a robust innovation system.
The Innovation Partnership Grants initiative is an effective vehicle to bring together the innovation communities of the two countries and exchange ideas to catalyze and facilitate technology transfer.
"In previous rounds, we have witnessed meaningful applications of technology in healthcare, agrifood, natural disasters and environmental management. With this grant round focused on hi-tech agriculture, an emerging topic in Viet Nam, we look forward to seeing the continued co-creation of innovative solutions through our countries' strong collaborations," he added.
Innovation Partnership Grants are a key element of the Aus4Innovation program, a 10-year (2018-2028) AUD 33.5 million flagship initiative aimed at strengthening Viet Nam's innovation system to support inclusive and sustainable socio-economic development.
The program is funded by Australia's Department of Foreign Affairs and Trade (DFAT), co-funded and managed by CSIRO–Australia's national science agency, and delivered in a strategic partnership with Viet Nam's Ministry of Science and Technology./.