Australia announces AUD94.4 million for climate change adaption in Mekong Delta
VGP - Australian Foreign Minister Penny Wong announced a new support package worth AUD94.5 million for climate change adaption in the Mekong Delta in the 2023-2024 period.
August 22, 2023 4:01 PM GMT+7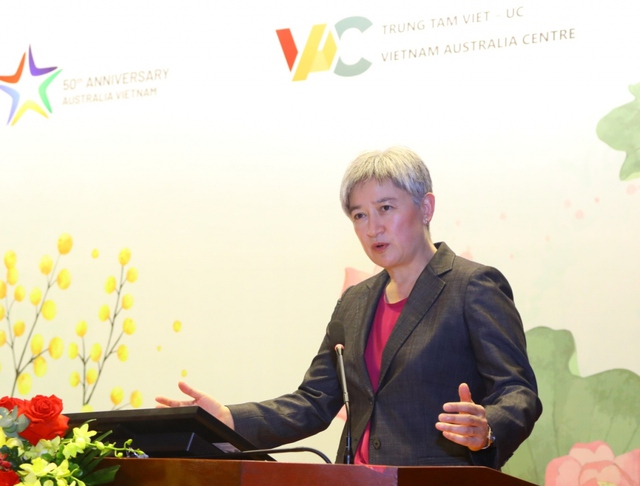 The Australian diplomat made the above announcement while attending the Viet Nam-Australia Forum themed "Regional cooperation in a changing world" held in Ha Noi on August 22.
Wong said that the support package has shown that Australia and Viet Nam are working together to handle common challenges in climate change and energy transition.
She hailed activities of the Viet Nam Australia Center, a focus of Australia's development partnership with Viet Nam. The center gathers Australian and Vietnamese specialists to strengthen the capacity of Viet Nam's leadership and management team in the future, to address national, regional and global challenges.
The Mekong Delta region, an area sensitive to environmental changes, faces great challenges from climate change, requiring regional localities to come up with an effective strategy to adapt to extreme weather conditions, reduce emissions and increase recovery capacity, according to experts.
A climate change scenario created in 2016 showed that if the sea level rises by 100 cm, and if no solutions are taken, some 39 per cent of the total area of the Mekong Delta will face the risk of flooding. Alongside, each year, erosion will also cause a loss of about 300 hectares of land and mangrove forest, it said.
Currently, the Mekong Delta region has 564 erosion sites with a total length of over 834km, including 512 sites along river banks with a total length of about 566km. This includes the main branches of canals, together with 52 sites of coastal erosion areas with a total length of 268km.
Earlier, on June 4, Australian Prime Minister Anthony Albanese announced a support package worth AUD105 million for Viet Nam's climate change response and energy transition during his talks with Prime Minister Phạm Minh Chinh in Ha Noi./.