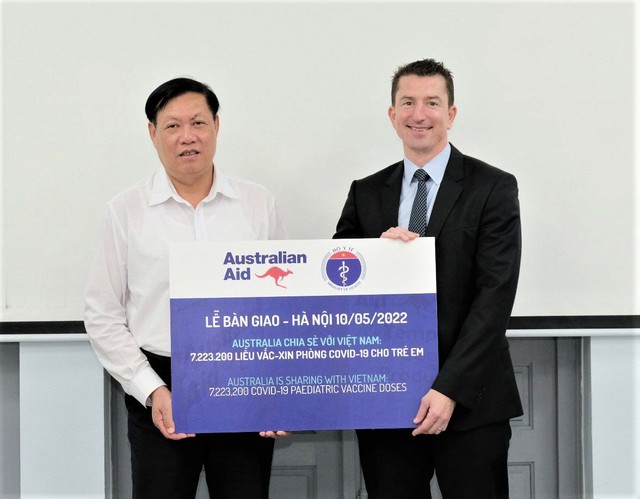 The first delivery of paediatric vaccine doses arrived on April 8, and the remaining doses were delivered throughout April. The final delivery of 772,000 doses arrived on May 7.
These new COVID-19 vaccine doses build on the 7.8 million doses Australia has already provided to Viet Nam for its adult population to boost its economic and social recovery from COVID-19.
Australia is also delivering a comprehensive package of support Viet Nam to bolster COVID-19 vaccine rollout.
Under this package, Australia is working in partnership with UNICEF to support cold chain upgrades, training for healthcare workers, production of communications materials, and planning and implementation of the vaccine rollout in remote provinces in Viet Nam.
Deputy Head of Mission Tattersall congratulated Viet Nam on its COVID-19 vaccine rollout to date and welcomed the next phase of Australia's support.
These paediatric COVID-19 vaccine doses will help bolster Viet Nam's efforts to contain COVID-19, by extending the vaccine rollout to protect younger people in Viet Nam, assisting with our return to the new normal, he stated.
In addition, Australia is also contributing AUD215 million to the COVAX Advance Market Commitment (AMC) to support equitable global access to safe and effective COVID-19 vaccines.
Through the COVAX AMC, over 1.2 billion doses have been delivered to 86 developing countries around the world to date, including 68,137,050 doses to Viet Nam.
Viet Nam has so far approved Pfizer-BioNTech and Moderna COVID-19 vaccines for use on children between five and under 12 years of age. As of May 9, more than 1.8 million doses (first shots) have been administered to children in this age group.
A total of 215.68 million doses of vaccines have been given in the country, including 196.48 million doses in the adult population (nearly 40 million of which are boosters).