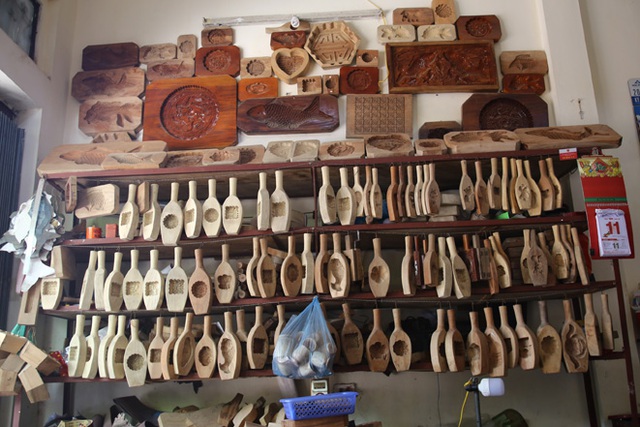 Born in Thuong Cung Village, Tien Phong Commune, Thuong Tin District about 20km far from Ha Noi centre, Ban has been living and breathing with the tradition craft for more than 40 years.

"I was growing up with molds hanging around and sound of hammers and chisels hitting on wood every day. They have become part of my life and I can't let it fade away," Ban says.
The young man learnt his technique from old and experienced artisans in the village. Hard-working and smart, he quickly became a skillful one who has made countless molds and has mastered the art of making mooncake molds.
The molds play important role in creating distinctive look for each banh nuong (baked mooncake) and banh deo (sticky rice mooncake) which are an indispensible part of every offering tray.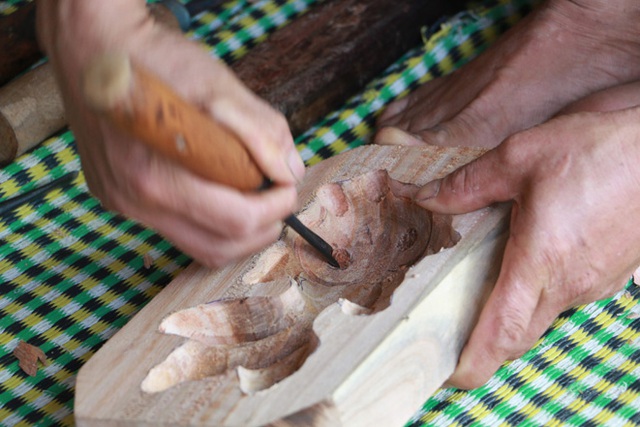 Ban and many craftsmen in the village lived well with the craft, producing molds for customers from big cities such as Ha Noi, HCM City and also many other provinces.
However, when the plastic molds appeared in Viet Nam, the wooden pans were no longer their favourite products.
Many artisans quit their job, making Ban's family is the only one in the village still living with the craft.
He says the plastic molds can meet all demands of customers. They are in various types, designs, motifs and patterns such as flowers, animals and letters. They are round, square or even triangular and came in assorted sizes. Costumers no need to wait for carving but they can buy in stores easily and the plastic ones are easier to unmold the mooncakes.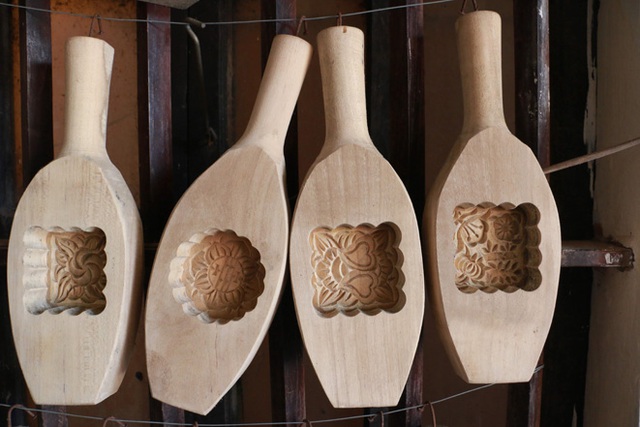 However, the wooden molds still have their own advantages.
"The patterns are handmade. The art of carving has been existed in Viet Nam for thousands of years. Today, machines have supported artisans a lot in producing molds but they can't replace us in carving traditional patterns such as dragon, phoenix, and typical flowers such as daisy and ochna," Ban said.
"Handmade molds produce beautiful mooncakes with lively, delicate, soft and curving patterns that the machine-made molds can't do.
The cakes made from wooden molds also have distinctive scent and taste because they include not only flavour of the ingredients but also good smell of the natural wood. The cakes will reflect the skills and feelings of the artisans when they created the molds -- the art works.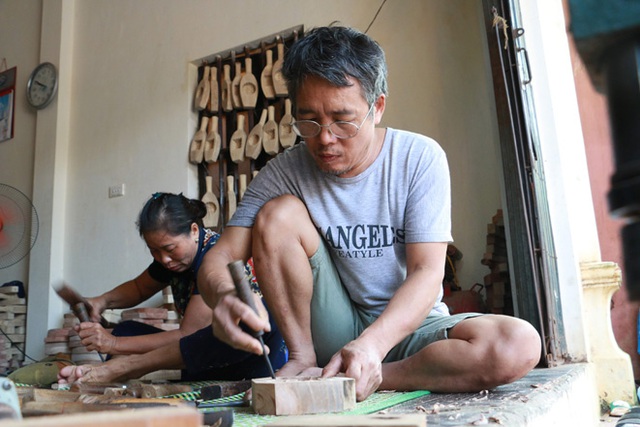 Keeping the craft alive
In a small house in Hang Quat Street in the Old Quarters, Pham Van Quang pays all attention to his hammer and chisel and pieces of wood.
He is casting traditional wooden molds for a customer who is excited to make mooncakes for her children for the first time.
Quang keeps his eyes and hands on the wood, carefully carving little by little, while explaining his activities to the woman.
He said craftsmen must be calm, precise and give their whole mind to the job.
The process of making one mooncake mould is exhaustive and meticulous. The wood used for mould making needs to be tough yet resilient enough to withstand pressure.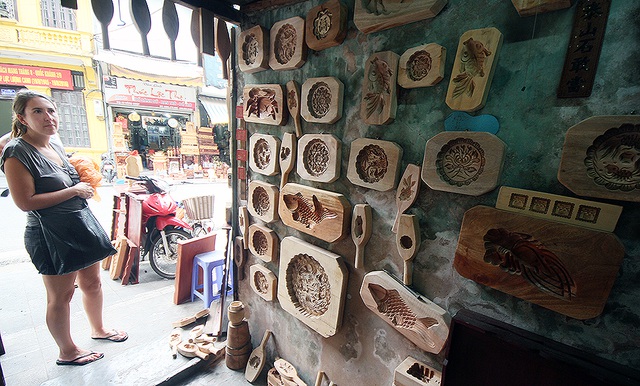 The whole block will be trimmed and redesigned to customers' requirements. The intricate patterns on the mould require careful and mindful preparation as it can ruin the cake.
Under the talented craftsmanship, the artisan has created hundreds of molds varied in size and shape, from the traditional mould resembling the lotus, rose and calendula to shrimp, fish and crab molds.
Quang's family moved from Thuong Cung Village to Ha Noi for many years. They brought the wooden mould making craft to the city and he is living with it until now.
"In the past, I made hundreds of molds per season. Some years, I worked hard days and nights but could not meet the huge demand," said Quang.
"It is a family heirloom profession, but now I'm the only one who clings to it. All of my brothers and children have switched to other occupations when the market of wooden molds has been narrowed because of the plastic ones. But I still want to keep my job, my passion."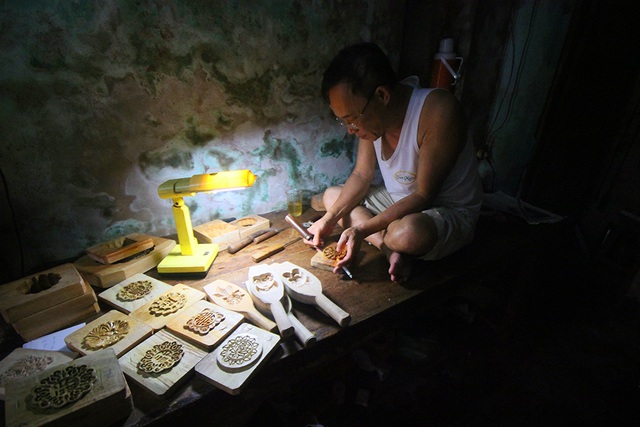 "The difficulty is to understand customers' demands to produce molds that they love them at first sight. Customers will be the ones who give feedbacks which help me to improve and give me new ideas in carving," Quang says.
"All wooden molds are unique and intricate art works with soul, none is the same because they are handmade. Skills and creativity of the craftsmen will decide the beauty of the molds."
Despite dozens of years working in this field, I keep self-studying and creating new patterns and designs to serve wide range of demands.
"Now, plastic molds become popular because they are cheap. Meanwhile, the price of wood is very high, which makes my business more difficult. It is highly competitive. To help the mould carving craft alive, artisans must adjust with the change of the society. We must be creative and our products must be unique but still recognized," he said.
Besides the traditional molds with the shape of carp, dragon, or rose, Quang even makes molds in the shape of characters from modern movies and cartoons that kids love such as Doraemon or Pikachu.
Despite many difficulties and through many changes of the times, Ban and Quang still choose to stick with the craft of making wooden mooncake molds as a way to preserve part of the nation's traditional culture.
These unsung artisans have also contributed to a more fulfilling holiday./.