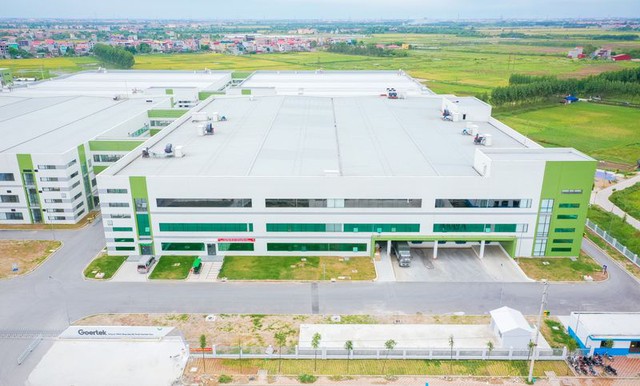 U.S. tech companies in particular have been pushing hard for manufacturers like GoerTek to explore alternative locations, said the executive, who oversees GoerTek's Vietnamese operations from northern Bac Ninh province.
"Currently we are focusing on developing our Viet Nam production facilities", emphasized Yoshinaga.
Viet Nam for now is the company's sole manufacturing site outside of China. The envisioned new 62-hectare complex in Bac Ninh will make products for major U.S. brands and is expected to be operational within a year, Yoshinaga told Bloomberg News.
That investment will add to the US$1.06 billion of commitments that GoerTek's made in Bac Ninh and the north-central province of Nghe An, he added.
GoerTek, which also plans to manufacture virtual reality headsets in Viet Nam from 2024, expects the Southeast Asian country to produce more than half of its global revenues in three years, up from one-third now, Yoshinaga added.
The company is also asking its own suppliers to scout northern Viet Nam for new factories, he said. It makes Quest virtual reality headsets for Meta Platforms Inc. and Sony Group Corp.'s PSVR devices.
GoerTek set up operations in Viet Nam a decade ago to make acoustic products at the request of Samsung Electronics Co., he said. The supplier now operates eight plants in the country, and expects to double its local workforce to 40,000 as soon as May to ramp up for Christmas, Yoshinaga shared.
Viet Nam's proximity to China, a coastal network of ports, young educated workforce and relative political stability make the Southeast Asian country an ideal hub, he noted.
According to Counterpoint Research analysts Ivan Lam and Shenghao Bai as cited by Bloomberg, Viet Nam has attracted 21 Apple suppliers to operate in the country.
Viet Nam will make 65 percent of Apple wireless AirPods by 2025 as the U.S. tech giant continues to shift its production away from China, JP Morgan analysts have forecast.
The country would also reportedly account for 20 percent of iPad and Apple Watch output and 5 percent of MacBook.
FDI interest in Viet Nam is very positive
In 2022, total disbursed volume of foreign direct investment (FDI) reached a new record of US$22.4 billion, up 13.5 percent over the previous year, according to the Ministry of Planning and Investment (MPI).
The Southeast Asian nation reeled in nearly US$27.72 billion in FDI during the year, down 11 percent.
Viet Nam granted investment certificates to 261 FDI projects with the total registered capital worth over US$1.76 billion over the last two months of this year, up 42.6 percent in the number of projects and twice as high as a year ago in value.
As of February 20, Viet Nam counted the FDI inflows of nearly US$3.1 billion, reported the MPI. The country is likely to attract US$36-38 billion in FDI this year.
According to a plan set for 2023, as well as the 2021-2030 period, the nation targets to attract high-tech projects with modern management and high added value to connect to global production and supply chains, underlined Minister of the MPI Nguyen Chi Dung.