Nikkei Asian Review: Apple to produce millions of AirPods in VN amid pandemic
VGP - Apple will produce millions of its popular AirPods wireless earphones in Viet Nam for the first time this quarter, according to Nikkei Asian Review in an article.
May 27, 2020 4:20 PM GMT+7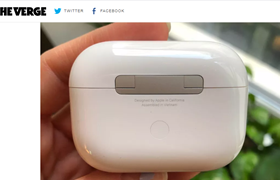 Illustration photo
Some 3 million to 4 million units, or around 30% of total classic AirPods production this quarter, will be "made in Viet Nam".
AirPods, the most rapidly growing item in Apple's hardware product portfolio, are the world's best-selling wireless Bluetooth earphones. They commanded about 50% of the global market last year, selling around 65 million units, according to Counterpoint Research, which predicts sales to grow to up to 100 million units for 2020.
Apple has gradually formed a more complete acoustics supply chain in north Viet Nam, where the Cupertino, Calif., tech giant has long sourced its traditional EarPods -- the wired headphones that come with iPhones -- from multiple suppliers' factories there.
Meanwhile, its acoustic component supplier, Merry Electronics, is collaborating with Luxshare to prepare a facility in Viet Nam slated to begin operations as early as this summer, according to the company.
The article added that many Apple suppliers, such as the two major iPhone builders Foxconn and Pegatron, and iPad maker Compal Electronics, are all expanding production in north Viet Nam.
By Thuy Dung