Prime Minister visits leading mobile operator in Cambodia
VGP – Prime Minister Pham Minh Chinh on Wednesday visted Metfone – the leading mobile operator in Cambodia, as part of his two-day official visit to the neighboring country.
November 09, 2022 2:35 PM GMT+7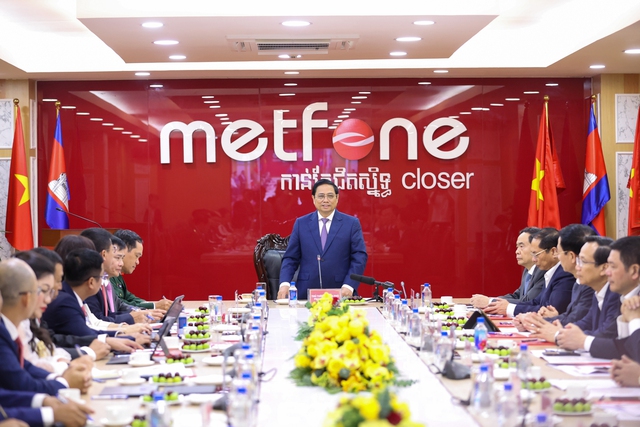 Metfone is the brand name of Viettel Cambodia PTE. LTD., an affiliate of Viet Nam's Viettel Group. According to GSMA Wireless Intelligence, Viettel Group is among the top 15 telecom companies globally when ranked by the number of cellular connections.

Currently, Viettel Group has invested in 11 countries and provided service to about 100 million customers on the three continents (Asia, America and Africa), including: Viet Nam, Cambodia, Myanmar, Laos, East Timor, Peru, Haiti, Mozambique, Tanzania, Cameroon, and Burundi.
Viettel began to invest in Cambodia in 2006 and launched Metfone in 2009.
To date, Metfone has 9 million subscribers, accounting for 41.7 percent in Cambodia's telecom service market.
Metfone is one of the five biggest companies in terms of tax contributions in Cambodia and creates around 30,000 indirect jobs.
Speaking at the meeting with Metfone's leaders, Prime Minister Pham spoke highly of the company's performance in Cambodia, which he said would contribute to advancing socio-economic development in Cambodia and promoting the fine neighborliness, traditional friendship, comprehensive cooperation and long-term sustainability between the two countries.
He asked the company to strictly comply with Cambodia's laws and continue playing a bridging role in consolidating and enhancing the friendship and cooperation between the two nations.
The Prime Minister expressed his belief that Metfone would continue the course of safe, healthy, rapid, sustainable and effective development in the Cambodian market.
Metfone is made from Khmer language. "Mette" means "friend". By adding English words commonly used in telecommunications "fone", Viettel Cambodia PTE. LTD., created a brand name that have both Cambodia value and global telecommunications value - Metfone./.