Prime Minister receives WTO leader
VGP - Prime Minister Pham Minh Chinh on May 18 hosted a reception for Director-General of the World Trade Organization (WTO) Ngozi Okonjo-Iweala who is on a working visit to Viet Nam.
May 18, 2023 8:56 AM GMT+7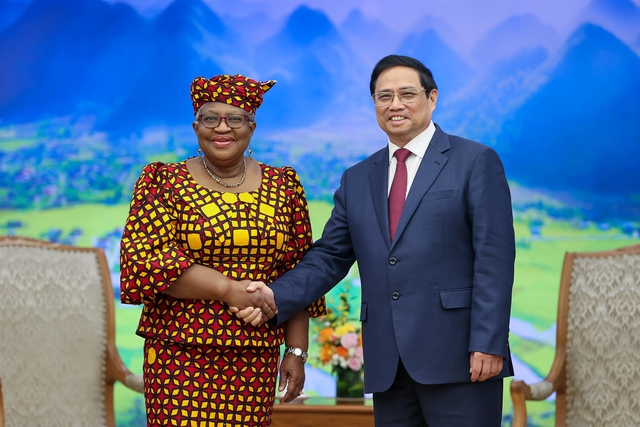 Prime Minister highly valued the role and effort of the Director-General's leadership of the international organization since she took office in March 2021.
Since its accession to the WTO in 2007, Viet Nam has developed a highly open economy up to 200 percent of its GDP, becoming one of the world's top 20 economies in terms of international trade, improving the balance of trade in goods, shifting from a trade deficit to a trade surplus for six consecutive years from 2016 to now.
Viet Nam's export turnover has increased nearly eight times compared to the time when the country officially joined the WTO in 2007 (from US$48 billion to U$$ 371 billion in 2022). The amount of FDI disbursement valued US$ 22.4 billion.
As a responsible member of the WTO, Viet Nam advocates promoting its proactive and active role in the WTO's cooperation frameworks, making efforts to fully implement its commitments.
So far, on the basis of WTO's principles, Viet Nam has already signed and implemented 15 FTAs including three new-generation FTAs (CPTPP, EVFTA, UKVFTA). Viet Nam has recently finalized FTA negotiations with Israel and is about to sign the document in 2023 and is considering possibilities for others.
On this occasion, Prime Minister Pham proposed the WTO continue to promote its coordinating role to boost global trade in inclusive and balanced fashion for peace, cooperation and development in the world.
He also suggested that the WTO continue to take strong actions to expand the agenda beyond the traditional economic-trade issues, to include major issues that Viet Nam and all other countries are familiar with such as e-commerce, artificial intelligence, digital transformation and green transformation.
The Prime Minister also hoped that the General-Director would continue to support cooperative programs, financial and technical support of the WTO to help Viet Nam improve the efficiency of international economic integration, continue to make practical contributions to the activities of the WTO.
For her part, WTO Director-General Ngozi Okonjo-Iweala assessed that Viet Nam is a success story in terms of socio-economic development, as shown by the figures shared by the Prime Minister, especially the great achievements in the fields of socio-economic development, income per capita, import and exportdata.
Viet Nam's economy is growing better than the global average rate with fast economic growth rate, declining inflation rate, positive financial policy, and a low gap between the rich and the poor.
However, the Director General said that Viet Nam's successful story is not well known in the world.
She hoped that experience and lessons drawn by Viet Nam should be widely introduced to the rest of the world and help inspire other countries./.