Prime Minister receives Greek Foreign Minister
VGP - The Vietnamese Government attaches importance to traditional friendly relations with Greece, emphasized Prime Minister Pham Minh Chinh during his reception for Greek Foreign Minister Nikolaos Dendias in Ha Noi on August 1.
August 02, 2022 10:34 AM GMT+7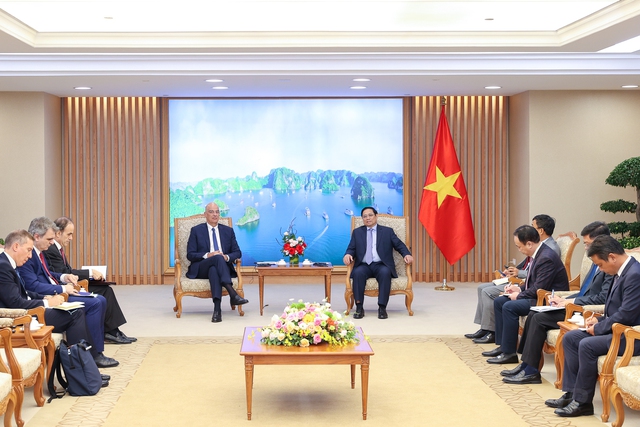 Pham expressed thanks to the Greek Government for donating €50,000 for the Viet Nam National Olympic Committee as well as thousands of COVID-19 vaccine doses to Viet Nam last year.
He suggested the two countries should enhance delegation exchanges and contacts at all level, and continue supporting each other at multi-lateral forums and international organizations, making practical contributions to handling global and regional issues.
Pham expressed his delight on the positive growth in the bilateral trade, expecting that Greece will facilitate Viet Nam's advantageous farm products to enter the country and the EU.

He called on the two sides' enterprises to foster coordination and take advantages of the EU-Viet Nam Free Trade Agreement (EVFTA) and the EU-Viet Nam Investment Protection Agreement (EVIPA) in a bid to soon realize the two-way trade goal of US$5 billion.
Pham asked the two sides' ministries and agencies to tackle difficulties and obstacles for early signing of an agreement on maritime transport and a double taxation avoidance agreement.
He spoke highly of Greece, as one of the first countries in the EU, ratifying the EVIPA and urged Greece urge the European Commission to soon remove the "yellow card" on Vietnamese seafood exports.
The Prime Minister suggested the two nations actively carry out the cultural cooperation agreement signed in 2008, particularly in sharing experience in archeology, the conservation and restoration of relics, preparing dossiers to seek UNESCO recognition of heritages.
He welcomed the proposal of Greece to build a monument and memorial space for President Ho Chi Minh in Greece.
Pham took the occasion to invite Greek Prime Minister Kyriakos Mitsotakis to soon pay an official visit to Viet Nam.
For his part, the Greek diplomat congratulated on Viet Nam's good management of the COVID-19 pandemic and its achievements in inflation control, macro-economic stabilization, and post-pandemic recovery.
Greece always regards Viet Nam as a priority and crucial partner in the region, he underscored, adding that his country hopes to strengthen the multi-faceted relations with Viet Nam.
He highly appraised the increasing role and contribution of Viet Nam in maintaining peace, stability and development in the region and the world.
The Greek FM pledged to advocate Viet Nam's stance on the importance of ensuring security and safety of aviation and navigation as well as addressing disputes at the East Sea via peaceful means on the basis of respect for international law, including the 1982 United Nations Convention on the Law of the Sea (UNCLOS 1982).