Prime Minister orders disbursing at least 95% of public investment capital set for 2023
VGP - Prime Minister Pham Minh Chinh asked ministries and localities to strive for disbursing at least 95 percent of this year's public investment capital volume.
February 21, 2023 4:43 PM GMT+7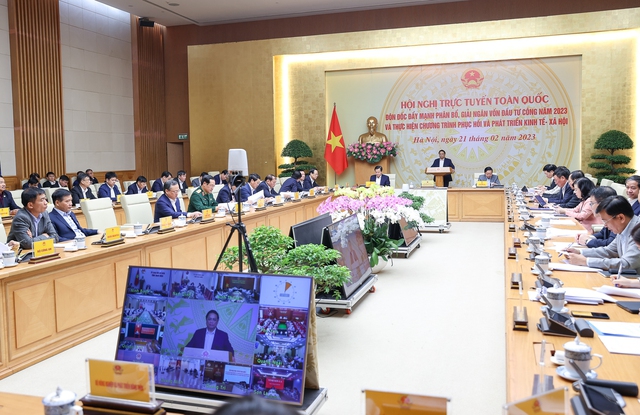 The Government leader on Tuesday chaired a national teleconference to seek ways to boost the disbursement of public investment capital and the realization of the socio-economic development and recovery program.
Addressing the event, Pham emphasized the significance of public investment capital for fostering the development of transport infrastructure, education, culture, health and society, guarantee security and defense, improve social security and create more jobs, a new impetus and new development space.
Public investment also helps strengthen local and regional linkages, stabilize the macro-economy, ensure big economic balances, promote the productive capacity of the economy and speed up fast and sustainable development, he stressed.
In 2022, the Government issued a number of resolutions and directives and established six working groups to supervise and speed up the disbursement of public investment capital.
According to the Ministry of Planning and Investment, as of January 31, over VND541.85 trillion (US$22.83 billion) of public investment capital allocated for 2022 had been disbursed, equipvalent to 93.5 percent of the whole plan, with eight ministries and central agencies and 30 localities completing 100 percent of their targets.
Total public investment capital for 2023 increased by more than VND130 trillion (US$5.5 billion) to arround VND711.7 trillion (nearly US$30 billion) from that in 2022,
As of February 17, the State allocated more than VND595.61 trillion (US$23 billion) in public investment capital to ministries, agencies and localities, reaching 84.2 percent of this year's plan.