Prime Minister meets with overseas Vietnamese in San Francisco
VGP - Prime Minister Pham Minh Chinh met with representatives of overseas Vietnamese (OVs) in San Francisco, California on May 17 (local time) as part of his trip to the U.S.
May 18, 2022 2:09 PM GMT+7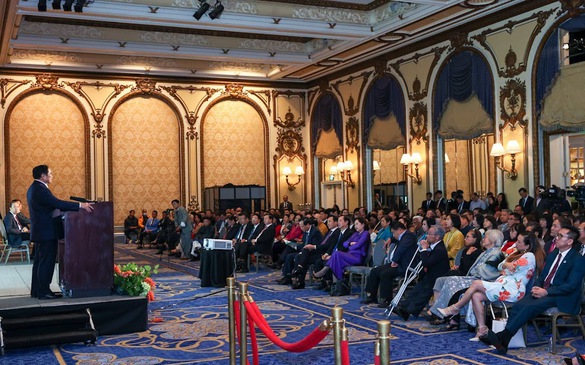 Prime Minister Pham spoke highly of OVs in general and those in the U.S. in particular for their contributions to the homeland as well as the Viet Nam-U,S. ties.
He reiterated that the Party and the State have always regarded OVs as an integral part and an impulse for national development.
The Prime Minister called upon Vietnamese expats to preserve and promote the Vietnamese culture and make more contributions to the homeland while urging diplomatic missions to pay more attention to their material and spiritual life.
He also praised their contributions during the combat against the COVID-19 pandemic at home.
OVs have engaged in 376 projects in the form of foreign direct investment (FDI) with total registered capital amounting to US$ 1.72 billion.
According to the Prime Minister, remittance inflows to Viet Nam exceed US$10 billion annually, and reached US$12.5 billion last year. The capital has played a role in the country's socio-economic development, he added.
At present, Viet Nam has over 5 million OVs all over the world of whom over 2 million are living in the U.S. especially California.
Later the same day, PM Pham and his entourage left San Francisco for Ha Noi, successfully concluding his trip to the U.S. to attend the ASEAN-US Special Summit and visit the U.S. and the United Nations from May 11-17./.