Prime Minister meets IMF Managing Director in Jakarta
VGP - Viet Nam stands ready to join hands with the International Monetary Fund (IMF) to launch measures to boost economic recovery, said Prime Minister Pham Minh Chinh during his meeting with Managing Director of the IMF Kristalina Georgieva.
September 05, 2023 9:09 AM GMT+7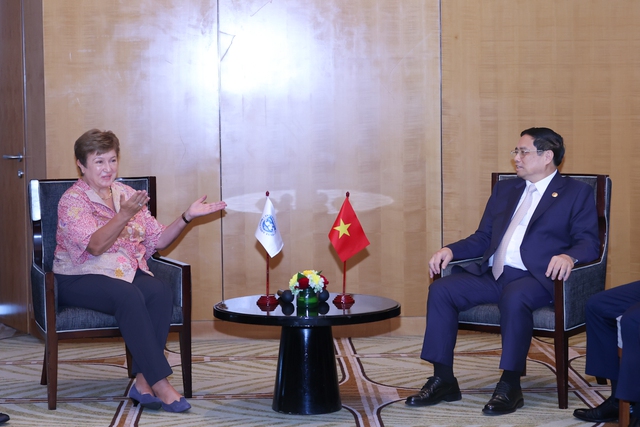 The meeting took place in Jakarta, Indonesia on September 4 on the sidelines of the 43rd ASEAN Summit and related meetings.
Pham expressed thanks to the IMF for actively supporting Viet Nam in terms of consultancy, policy planning, macro-economic stabilization, finance-currency, and economic rebound.

He hailed the role of the IMF in fostering economic recovery in the post-COVID-19 period and proposing measures to cope with difficulties and challenges.
Viet Nam is willing to work with the IMF to carry out agendas focusing on three pillars in such areas as stabilizing the macro-economy, supporting vulnerable countries and enhancing growth, he stated.
Amidst complex developments and risks in the global economy, the nation has implemented measures to stabilize the macro-economy, curb inflation, maintain growth, ensure big balances of the economy, and control public debt, noted Pham.
The PM stressed that Viet Nam has carried out flexible and effective monetary and fiscal policies, and promoted foreign direct investment and domestic investment, adding that the country is calling on big economies, including countries in ASEAN, to realize these measures.
He expected that the IMF will continue supporting Viet Nam to achieve set targets in the time ahead.
Kristanila Georgieva, for her part, said that active economic growth of ASEAN, in general, and Viet Nam's economy, in particular, have made crucial contributions to sustainable growth of the world's economy.
The world's economy is facing high inflation, high interest rates and slowing global economic growth, she said, adding that Viet Nam is facing negative impacts of these challenges.
In the upcoming time, the IMF will continue proposing solutions to assist its member countries in increasing resilience to future shocks, she affirmed.
She expressed her hope that the ASEAN Member States, in general, and Viet Nam, in particular, would uphold their roles in fostering economies and raising their strong voices in promoting global cooperation.
Prime Minister Pham and the Managing Director of the IMF emphasized the need to realize comprehensive measures in terms of politics, and economics, and ensure peaceful and sustainable environment.
They also highlighted the significance of strengthening international solidarity, multilateralism, and international integration.
Both sides called on nations to seek for new impetus for growth, including green growth, circular economy, sharing economy, strengthen the signing and negotiation of free trade agreements and remove trade barriers to facilitate the global circulation of goods./.