Prime Minister meets Brazillian business representatives
VGP - The Vietnamese Government commits to creating favorable conditions for Brazilian investors to do successful and long-term business in Viet Nam, said Prime Minister Pham Minh Chinh.
September 25, 2023 6:58 AM GMT+7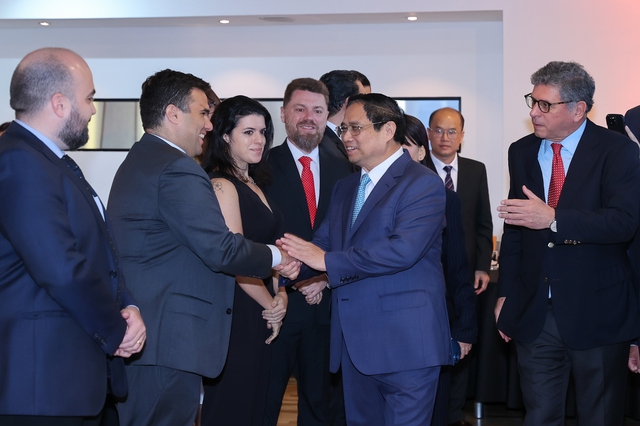 The Vietnamese Government chief made the point at a roundtable discussion with Brazillian business leaders in Sao Paolo on September 24 (local time).
He added that after nearly 35 years of diplomatic ties, especially following the establishment of the comprehensive partnership in 2007, the bilateral ties have progressed positively in all aspects.
Viet Nam and Brazil are currently each other's biggest trade partners in the Southeast Asian region and the South America, with a record trade volume of around US$ 6.78 billion in 2022, representing a year-on-year increase of 6.6 percent, up three times over the past decade.
However, investment cooperation remains modest. Brazil has six active projects worth US$3.83 million in Viet Nam. Meanwhile, Viet Nam has only one FID project in Brazil capitalized at only US$0.3 million.
The Prime Minister said that the two economies own abundant supplementary fields and products for cooperation, including energy, aviation, agriculture, infrastructure, healthcare, biology and mining.
Pham said Brazil can be come a bridge to help Viet Nam access the Latin American region as well as the Southern Common Market (MERCOSUR) and Viet Nam can help Brazil access ASEAN market with more than 650 million consumers and a larger market of 800 million people under the Comprehensive and Progressive Agreement for Trans-Pacific Partnership (CPTPP), to which Viet Nam is a signatory.

Prime Minister Chinh voiced his support for Brazil's proposal to open its trade and industry office in Viet Nam.
He suggested that businesses of the two countries should further promote science and technology transfer, and strengthen connections to develop together in a bid to raise the two-way trade to US$10 billion by 2025 and US$15-20 billion by 2030./.