Prime Minister hosts welcome ceremony for German Chancellor
VGP - Prime Minister Pham Minh Chinh on Sunday hosted an official welcome ceremony for German Chancellor Olaf Scholz who is on a two-day official visit to Viet Nam.
November 13, 2022 6:01 PM GMT+7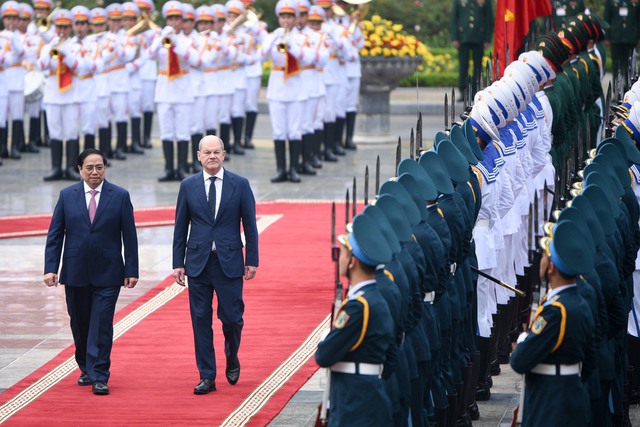 The official welcome ceremony took place at the Presidential Palace in Viet Nam's Ha Noi capital.
Olaf Scholz is accompanied by Secretary of State and Federal Government Spokesman Steffen Hebestreit; Parliamentary State Secretary at the Federal Ministry for Economic Affairs and Climate Action Franziska Brantner; German Ambassador to Vietnam Guido Hildner; the Chancellor's foreign policy and national security advisor Jens Ploetner; the Chancellor's economic policy advisor Steffen Meyer, among others.
During the visit, the German Chancellor is expected to hold talks with Prime Minister Pham, call on Party General Secretary Nguyen Phu Trong, and participate in a roundtable conference with Vietnamese and German enterprises.
According to Vietnamese Ambassador to Germany Vu Quang Minh, German Chancellor Olaf Scholz's visit to Viet Nam is of great significance to relations between the two countries in the context that the two nation have implemented successfully the Strategic Partnership Agreement over the past decade, and enjoyed great achievements in economic and trade cooperation in the two years since the EVFTA took effect.
Viet Nam and Germany established diplomatic relations on September 23, 1975. Since then, bilateral friendship and cooperation have developed effectively. For many years, Germany has been one of the most important partners of Viet Nam in Europe.
Germany is now Viet Nam's largest trading partner in Europe, accounting for nearly 20 percent of Viet Nam's export value to the European Union (EU). It is also an important transshipment gateway for Vietnamese goods to enter other markets in Europe.
On investment, as of January 2022, Germany had 417 active projects worth over US$2.29 billion in Viet Nam, ranking 4th in the EU and 17th out of 140 countries and territories investing in the Southeast Asian country.
Regarding development cooperation, Germany is one of the countries that regularly and frequently provide official development assistance (ODA) to Viet Nam. Since 1990, Germany has provided over US$2 billion for ODA projects in Viet Nam through technical and financial cooperation.

Germany is also one of the most important partners of Viet Nam in vocational training. It has supported the Vietnamese Ministry of Labor, Invalids and Social Affairs in developing a national vocational training strategy, drafting the Law on Vocational Training as well as building model vocational schools./.