Prime Minister reiterates highest support for Cambodian People's Party
VGP – Prime Minister Pham Minh Chinh on Monday hosted a reception for General Tea Seiha, Cambodian Deputy Prime Minister and Minister of National Defense, who is on an official visit to Viet Nam.
November 13, 2023 8:30 PM GMT+7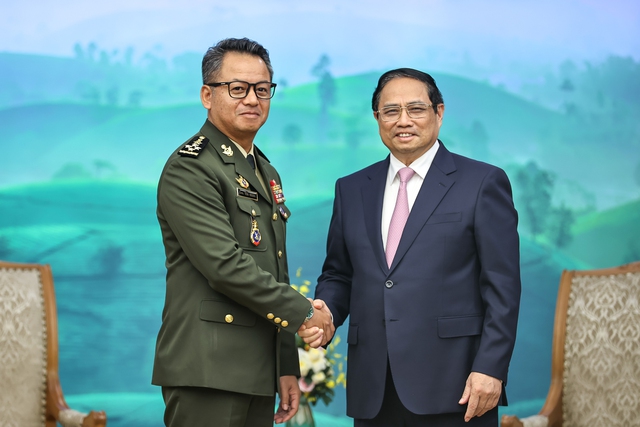 Prime Minister Pham welcomed General Tea Seiha to Viet Nam on the occasion of the 50th anniversary of the National Day of Cambodia, congratulated the country on its achievements over the past five decades, and expressed his belief that Cambodia would continue gaining greater achievements in the future.

Pham said Viet Nam and Cambodia are neighboring countries with fine tradition of friendship and cooperation and the two armies and people worked shoulder to shoulder in overthrowing colonialism, imperialism, and genocidal regime to bring independence, freedom, and happiness to people in each country.
Viet Nam always attaches importance and gives top priority to ceaselessly consolidating and enhancing the good neighborhood, traditional friendship and comprehensive, sustainable and long-lasting cooperation with Cambodia, affirmed Prime Minister Pham.
He also reaffirmed Viet Nam's unwavering and highest support for the Cambodian People's Party (CPP) and for a peaceful, stable, and prosperous Cambodia with increasingly high role and position on the international arena.
Pham thanked Cambodia for supporting and assisting Viet Nam in search and repatriation of the remains of Vietnamese volunteer soldiers and experts who laid down their lives in Cambodia during the wartime.
He expressed his wish that Cambodia would continue close coordination with Viet Nam in realizing the high-level agreements, stepping up the exchange of delegations, especially high-ranking delegations, fostering the connectivity between the two economies, and building the shared borderline of peace, friendship, cooperation and development.
Prime Minister Pham took the occasion to reiterate Viet Nam's "four nos" defense policy and urged the two armies to strengthen exchanges over strategic issues that may affect security and defense of each country; promptly and effectively address emerging issues; and consolidate defense cooperation, contributing to nurturing and deepening the friendship between the two Parties and the two peoples on the basis of sincere and substantive spirit.
General Tea Seiha expressed appreciation to the Party, State, people and army of Viet Nam for helping Cambodia in the fight against the Khmer Rouge genocidal regime as well as in the cause of national construction and development thus far.
He briefed the host about the outcomes of his meeting with General Phan Van Giang, Minister of National Defense of Viet Nam earlier the same day./.