Prime Minister chairs teleconference to review Jan-Sept socio-economic performance
VGP - Prime Minister Pham Minh Chinh chairs a national teleconference between the Government and localities to scrutinuze socio-economic performance in September and during January-September period.
October 01, 2022 2:43 PM GMT+7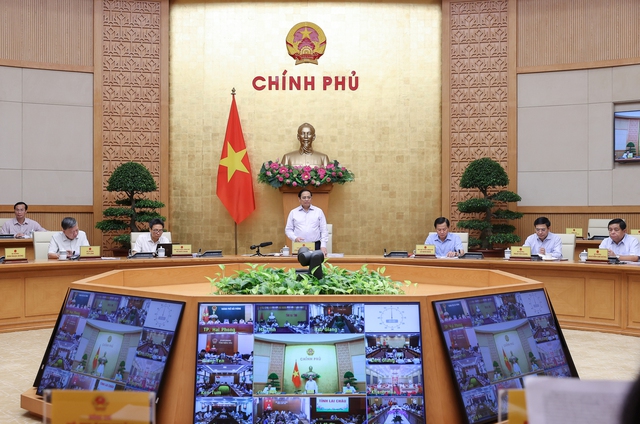 Present at the event include Deputy Prime Ministers Le Minh Khai and Vu Duc Dam, Minister of Public Security To Lam, Minister of National Defense Phan Van Giang as well as the leaders of city and provincial People's Committees.
The participants will also discuss the implementation of the socio-economic recovery and development program and three national target programs and disbursement of public investment capital.
In his opening remarks, the Government leader referred to consequences of typhoon Noru (Storm No.4), which has claimed seven lives and caused flooding and property damage in the central localities.
Pham offered condolences to families of victims and shared difficulties and losses local authorities and people are suffering from the storm, emphasizing the need to stay vigilant in response to storms, floods and natural disasters.
Regarding the socio-economic performance, official statistics showed that Viet Nam's GDP grew by 8.83 percent in the first nine months this year, the highest rate over the same period since 20211.
The economy expanded 13.76 percent in the third quarter compared to 7.72 percent in the second quarter and 5.05 percent in the first quarter.
During January-September period, the nation earned US$282.52 billion from exporting, a year-on-year increase of 17.3 percent. Meanwhile, import value rose by 13 percent to US$276 billion. Viet Nam's trade surplus was estimated to reach US$6.52 billion.
Over the reviewed period, as many as 112,791 firms were established, a year-on-year increase of 31.9 percent. In addition, 50,509 firms resumed operations, up 56.1 percent, raising the number of newly-established and re-operated enterprises to 163,300, up 38 percent.
In the third quarter alone, the new firms doubled the number recorded in the same period last year with 36,558 ones.
As of September 20, the Southeast Asian nation raked in nearly US$18.7 billion in foreign direct investment (FDI), down 15.3 percent year-on-year.
Disbursed volume of foreign investment capital totaled US$15.4 billion, up 16.2 percent on year.
Viet Nam welcomed about 1.87 million international arrivals in the first nine months of this year, 16.4 times higher than the same period last year.