Prime Minister calls for upholding rule of law at EU-ASEAN Commemorative Summit
VGP - Prime Minister Pham Minh Chinh called on ASEAN and the EU to uphold the rule of law, the United Nations Charter and the shared values, in his remarks at the EU-ASEAN Commemorative Summit in Brussels, Belgium on Wednesday.
December 14, 2022 11:29 PM GMT+7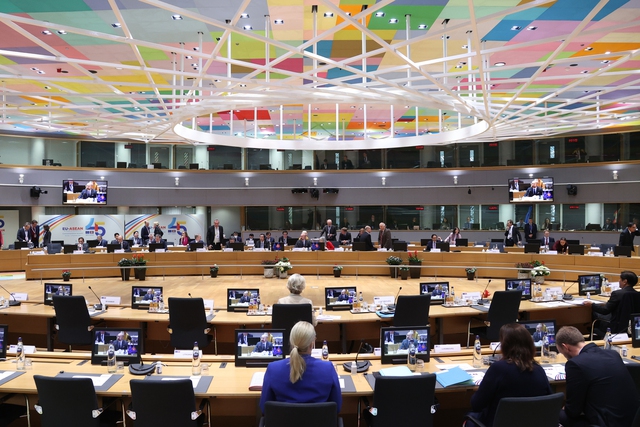 Pham asked ASEAN and the EU to double efforts in fostering their strategic partnership in a balanced and fair manner in which interests should be harmonized and risks should be shared between the State, businesses, and people.
He urged the EU to promptly remove "yellow card" against Vietnamese seafood exports and ratify the EU-Viet Nam Investment Protection Agreement (EVIPA).
Pham expressed his wish that the EU would offer maximum financial and technological assistance for Viet Nam through the framework of Just Energy Transition Partnership (JETP).
Viet Nam has agreed a JETP with a host of industrialized countries and leading banks, confirming ambitious plans to ramp up investment in the country's clean energy infrustructure.
The UK, the EU, France, Germany, the US, Italy, Canada, Japan, Norway, and Denmark have all backed the plan, which mirrors similar agreements reached with Indonesia and South Africa.
Under the terms of the agreement, the JETP will mobilize an initial US$15.5bn of public and private finance over the next three to five years to support Viet Nam's transition away from coal power.
The Vietnamese Prime Minister also said Viet Nam expects the EU to share information, experience and green technologies, and deepen cooperation in inovation , digital transformation, green economy, and circular economy.
At the summit, leaders of ASEAN and EU member countries agreed that the relations between ASEAN and the EU have advanced positively with many achievements.
Last year, the EU was ASEAN's largest trading partner with the two-way trade reaching US$268.9 billion, and the second biggest foreign investor in ASEAN with total investment capital of US$26.5 billion.
Both sides agreed to further deepen the ASEAN-EU strategic partnership established in 20202 based on upholding international law as well as fair and win-win cooperation, and promoting recovery and green and sustainable development.
The leaders affirmed that ASEAN and the EU will focus on accelerating economic and trade cooperation, stabilizing supply chains, and sticking to the goal of signing a free trade agreement between the two organizations./.