Prime Minister calls for int'l cooperation, solidarity for pandemic prevention
VGP - International cooperation and solidarity at both bilateral and multilateral aspects are decisive in improving the capacity to prevent and respond to pandemics, especially in developing countries.
September 21, 2023 10:50 AM GMT+7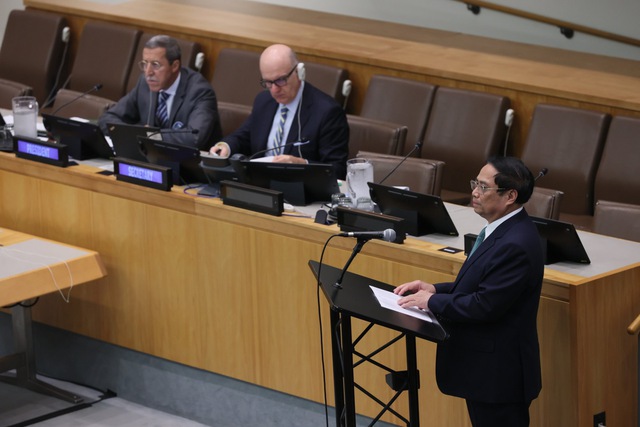 Prime Minister Pham Minh Chinh made the above statement while addressing the UN High-Level Meeting on Pandemic Prevention, Preparedness and Response which took place in New York, the U.S., on September 20.
Pham underlined the extremely serious consequences caused by pandemics and called on the international community to take action, with global and people-centered approach and solutions, so that future generations do not have to suffer pandemics.
He asked for giving priority to enhancing timely and equitable access to vaccines, treatment capacity, people's awareness, and technology transfer, while improving vaccine and treatment drug production and providing effective financial support for developing and underdeveloped countries.
The Prime Minister emphasized the need to improve the capacity of grassroots healthcare facilities and preventive medicine, considering it an urgent task of each country and international cooperation.
Pham highlighted Viet Nam's efforts in working together with international community to share information and experience in pandemic prevention and control.
Viet Nam calls on international community to make the global health security a priority on the agenda with a view to preventing, making preparations for and responding effectively to pandemics; with the spirit of putting people's health and lives first and foremost, towards sustainable development and leaving no one left behind, noted Prime Minister Pham.
He took the occasion to express thanks to international partners and organizations, including the WHO, for effective cooperation and assistance for Viet Nam, particularly during the COVID-19 period.
A Political Declaration on Pandemic Prevention, Preparedness, and Response was adopted at the meeting./.