Prime Minister attends TECHFEST-WHISE 2021
VGP - Prime Minister Pham Minh Chinh has called for a more drastic innovative startups movement so it will inspire everyone regardless of their age, region, and gender.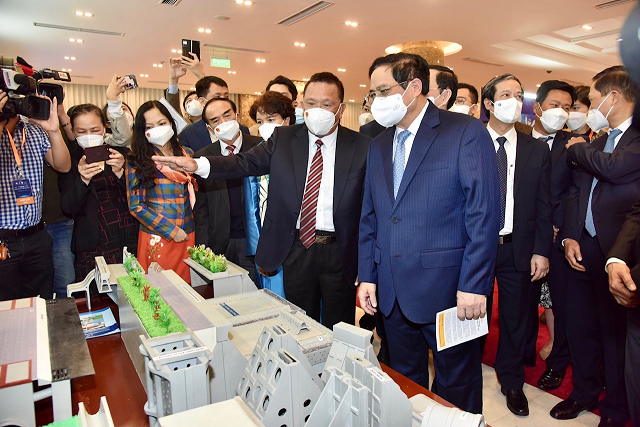 Prime Minister Pham Minh Chinh (1st from right) visits the TECHFEST, Ha Noi, December 14, 2021. Photto: VGP/Nhat Bac
The Government chief made the calling on December 14 at the opening of the national festival for innovative startups TECHFEST and Week for Ho Chi Minh City Innovation, Startup and Entrepreneurship WHISE 2021 via videoconference in Ha Noi on December 14.
The event, jointly hosted by the Ministry of Science and Technology (MoST), the Ministry of Foreign Affairs, the Ho Chi Minh City People's Committee and the Viet Nam Chamber of Commerce and Industry, was held in both in-person and virtual format with participation of delegates from 63 cities and provinces, and over 20 countries worldwide.
Minister of Science and Technology Huynh Thanh Dat reported that over US$ 1.5 billion was poured into Vietnamese start-ups this year, a record figure despite the COVID-19 pandemic. Over 140 universities and colleges nationwide also launched start-up activities, drawing the attention of major groups as financial investors.
Viet Nam ranked 44th out of 132 countries and territories in the Global Innovation Index (GII) and the first position among 34 middle-income countries.
Addressing the TECHFEST, Prime Minister Pham called upon all sectors, localities, businesses and people to make greater efforts in stepping up innovation and creativity for the sake of national interests.
He suggested that innovation efforts should focus on the fight against COVID-19, economic recovery and development, as well as emerging issues such as climate change, exhaustion of natural resources, aging population, non-traditional security issues, green growth, digital transformation, and those in health care, education, agriculture and poverty reduction.
He promised to continue perfecting mechanisms and attracting resources for innovation and startups, particularly financial resources from investors, professional investment funds, and international organizations./.
By Kim Anh