Prime Minister attends EU-ASEAN Business Summit in Belgium
VGP – Prime Minister Pham Minh Chinh attended the EU-ASEAN Business Summit held in Brussels, Belgium on December 13 ahead of the ASEAN-EU Commemorative Summit.
December 14, 2022 12:06 AM GMT+7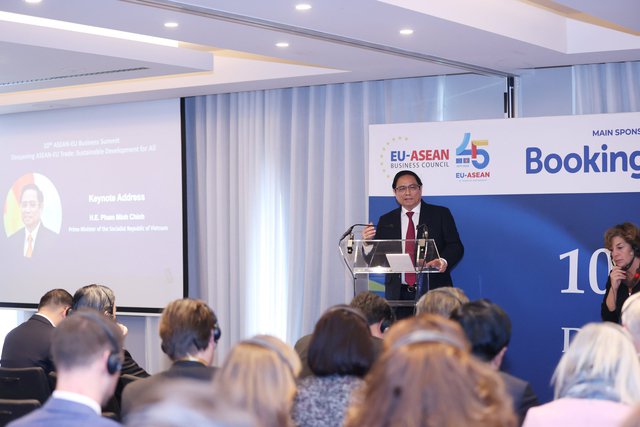 In his remarks, the Government chief called for strengthening international solidarity, upholding multilateralism, and forging closer and more effective cooperation between countries.

It is global solidarity that has helped the world to contain the COVID-19 pandemic, allowing us to be here at this summit, emphasized the Vietnamese Prime Minister.
ASEAN and the EU, with a combined population of nearly one billion, need to stand together, think together and act together in order to advance to the shared future, Pham said.
He called on businesses to enhance partnership while countries should work together to harmonize their regulations based on the principle of risk sharing that would help balance the interests of the State, the people, and businesses.
As trade between ASEAN and the EU has grown robustly, both sides need to further improve legal framework through signing free trade deals, investment protection agreements, and double taxation avoidance agreements so as to create best possible conditions for enterprises, Pham said.
He called on businesses to focus on such areas like digital economy, green economy, circular economy, climate change, food security, energy security, and cyber security.
Pham affirmed that Viet Nam always welcomes enterprises to make long-term investments and succeed in the country, pledging to continue maintaining political stability, social order and safety, and policy stability.
Last but not least, the Prime Minister affirmed Viet Nam's consistent pursuance of the foreign policy of independence, self-reliance, multilateral and diversification of external relations for peace, friendship, cooperation and development.
Viet Nam sticks to its position of settling disputes through peaceful measures on the basis of international law, without choosing sides but choosing justice and what is right, Pham said./.