President meets top Thai legislator
VGP - President of the National Assembly of Thailand Chuan Leekpai vowed to enhance close collaboration with Viet Nam in effectively implementing the recently-inked Agreement on Mutual Judicial Assistance in Civil Matters between the two nations.
November 17, 2022 9:45 PM GMT+7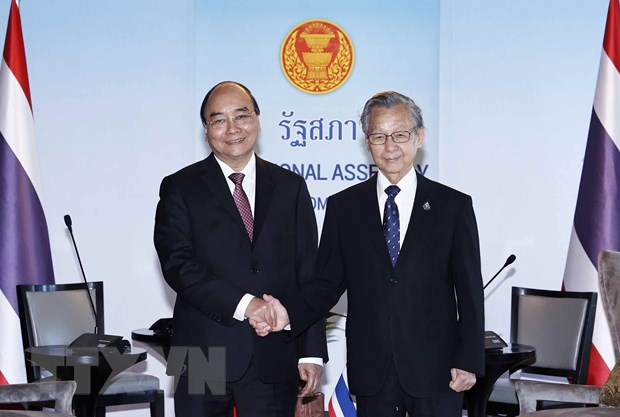 The top Thai legislator made the above statement at his meeting for Vietnamese President Nguyen Xuan Phuc who is paying an official visit to Thailand and attend the 29th Asia-Pacific Economic Cooperation (APEC) Economic Leaders' Meeting.
Chuan Leekpai expected that the Vietnamese leader's visit will help strengthen and deepen the Viet Nam-Thailand Strengthened Strategic Partnership.
He commended Viet Nam for its economic rebounds and development in the post-COVID-19 period, asserting that Viet Nam is a very important partner of Thailand in the region.
He spoke highly of the quality of Viet Nam's education, suggesting both nations expand cooperation in education-training and step up Vietnamese teaching in Thailand and Thai in Viet Nam.
The host pledged to advocate and create more favorable conditions for the Vietnamese community in the country.
For his part, Nguyen appraised active contributions of Chuan Leekpai to the relationship between the two countries.
He suggested the Thai National Assembly support the entry of Vietnamese commodities in the Thai market and urge both sides to sign and approve new agreements to meet the increasing demand for further cooperation.
He asked the Thai National Assembly to continue backing the principled stance of ASEAN in maintaining peace, stability and ensuring security, safety and freedom of navigation and aviation in the East Sea.
Nguyen highlighted the need to handle disputes via peaceful measures in line with international law, including the 1982 United Nations Convention on the Law of the Sea, fully and effectively implement the Declaration on the Conduct of Parties in the East Sea (DOC) and soon conclude a substantive and effective COC in accordance with international law.
Both sides agreed to promote exchanges at all levels, especially via parliamentary channels, continue upholding the role of legislative bodies in fostering the bilateral relations and supervising the realization of cooperation agreements, and share experience in building and completing the policy system. /.