President hosts ceremony in celebration of 77th National Day
VGP - President Nguyen Xuan Phuc hosted a ceremony in celebration of Viet Nam's 77th National Day (September 2, 1945 - 2022) in Ha Noi on August 31.
September 01, 2022 8:03 AM GMT+7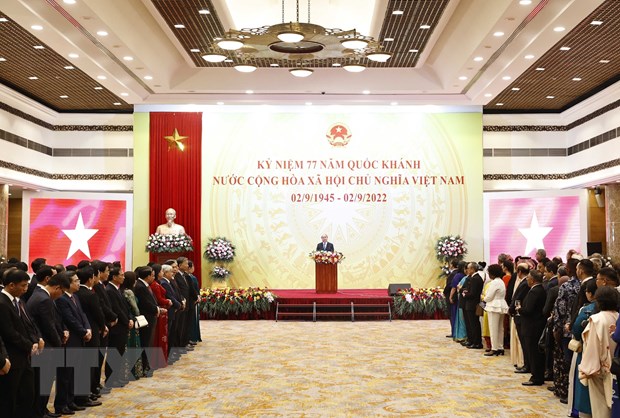 The event was attended by Permanent member of the Party Central Committee's Secretariat Vo Van Thuong, Standing Deputy Prime Minister Pham Binh Minh, Vice Chairman of the National Assembly Tran Thanh Man, Minister of Public Security To Lam and Minister of Defense Phan Van Giang, along with foreign diplomats and heads of international organizations in Viet Nam.
In his remarks, the President recalled the date of September 2, 1945, when then President Ho Chi Minh read the Declaration of Independence that marked the foundation of the Democratic Republic of Viet Nam, now the Socialist Republic of Viet Nam.
With the annual GDP growth of 7 percent over the last 35 years, Viet Nam has been ranked among 40 largest economies in the world as measured by nominal GDP and named among top 16 most successful emerging economies in the world, noted Nguyen.
The nation has attracted nearly 35,000 foreign direct investment (FDI) projects with the investment capital worth US$430 billion.
Foreign trade hit new record in 2021 with US$670 billion, up 23 percent against the previous year while the GDP grew 6.42 percent in the first half of 2022 thanks to the successful battle against the COVID-19 pandemic, political and social stability and growth momentum.
The nation has established diplomatic ties with 190 countries and successfull fulfilled of tasks as host of the Asia-Pacific Economic Cooperation (APEC) Year 2017 and the Democratic People's Republic of Korea-U.S. Summit in 2019 and Chair of the ASEAN in 2020, reiterated the State leader.
Viet Nam had a successful tenure as a non-permanent member of the UN Security Council for 2020 – 2021, he said, adding that the country was elected to the UNESCO Executive Board for 2021 - 2025 and re-elected to the International Law Commission.
Nguyen expressed sincere thanks to the valuable support and assistance and effective cooperation of countries, international organizations, partners and businesses for Viet Nam, remarkably in the fight against COVID-19.
Viet Nam needs more support and win-win cooperation with the international community to foster fast and sustainable development and carry out bilateral and multi-lateral programs, the President underscored.
On behalf of the diplomatic corps, Palestinian Ambassador Saadi Salama thanked the Vietnamese Party, State, Government, and relevant agencies for assisting foreign diplomats, affirming to attach importance to friendship and multifaceted cooperation between Viet Nam and other countries and international organizations.
He asserted to stand ready to continue efforts to further promote the role to help achieve the common goal of a world of peace, equality, prosperity, cooperation, and development.