Pre-set goals for wood export within reach in 2010
VGP – Việt Nam's timber exporting firms have sealed contracts worth of around US $3 billion, an increase of US $320 million against the same period last year, for exporting wooden products until the end of 2010, said the Việt Nam Timber and Forest Product Association (Viforest).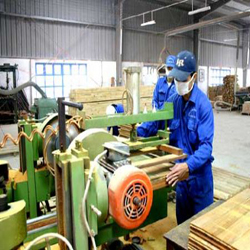 Illustration photo
The wood industry sets a strategic target to pocket US $5.4 billion of export turnover by 2015 and US $7 billion in 2020.
Hence, this year, the industry has to earn at least US $3 billion from exporting timber products.
In the first five months, Việt Nam has earned US $1.4 billion from timber exports, up 35% year-on-year.
The US, Japan, China and Belarus remain traditional importers of Việt Nam.
However, said Mr. Nguyễn Tôn Quyền, President of Viforest, domestic enterprises have to encounter with three major obstacles - the Lacey Act (the US) and the Forest Law Enforcement, Governance and Trade – FLEGT (the EU) on certificates of origins; no qualified provider of input material; and low competitiveness.
Mr. Quyền suggested timber exporters utilize legal wood, seek big contracts and understand styles of overseas customers.
By Hương Giang