Power Development Plan 8 sets out roadmap for Viet Nam's long-term renewable energy goals
VGP - The long-anticipated Power Development Plan 8 (PDP8) for 2021-2030, with a vision to 2050, which was released in May, sets out a roadmap for Viet Nam's long-term renewable energy goals.
August 08, 2023 5:54 PM GMT+7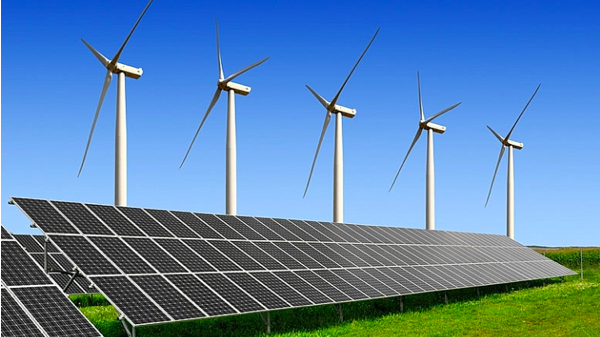 In a report themed "Viet Nam at a glance: The energy transition" released on August 8, HSBC noted that in less than a decade, Viet Nam wants to diversify away from coal (from a 30 percent to a 20 percent dependency ratio) while increasing the share of wind and liquefied natural gas (LNG) in its total power production by 2030.
Energy transition has been a key focus for Viet Nam's policymakers in recent years. A flurry of energy-related diplomacy highlights its ambition in the green transition. Last December, the G7 announced a package of US$15.5 billion to assist Viet Nam's decarbonization efforts.
This made Viet Nam the third developing country, after South Africa and Indonesia, to receive sizeable funding under the Just Energy Transition Partnership (JETP) agreement.
Key challenges: infrastructure and funding
According to HSBC, the two main challenges for Viet Nam's energy transition are infrastructure and funding.
For one, energy demand is mostly centered in the north and south, where most manufacturing activity is concentrated. However, new energy generation, particularly renewable energy, is under construction in the central and southern regions.
This means that transmission capacity to the north, which is expected to see growing power demand, will have to be upgraded.
Meanwhile, Viet Nam is in increasing need of infrastructure spending to sustain its economic growth and accommodate rising urbanization.
According to the Global Infrastructure Hub's estimates, Viet Nam requires at least US$ 25 billion per year on average for infrastructure spending over the next 20 years; among sectors, energy accounts for almost 45 percent of this.
ASEAN's joint efforts
Regional co-ordination is a key factor in renewable energy generation and transmission, as it can help create a more resilient and reliable power supply system, HSBC highlighted.
Singapore is looking into importing offshore wind power from Viet Nam. The two countries will jointly develop an offshore wind power plant with a total capacity of 2.3GW that will be connected through an undersea high voltage cable.
There is great potential for cooperation among ASEAN countries to improve connectivity, realize their respective energy mix targets and ensure stability of the power supply.
All in all, realizing the importance of the green transition, Viet Nam has been paving the way to achieve its net zero commitments.
Viet Nam has been addressing some of hurdles through close cooperation with ASEAN peers and G-7 partners. Overall, the green transition should pave the way for Viet Nam's long-term growth, the bank anticipated./.